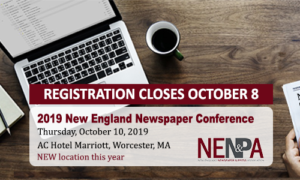 Registration closes for the 2019 New England Newspaper Conference on October 8 at noon.
This year the conference will focus on revenue, alternative funding and future business models for newspapers.
2019 Conference Schedule
10:00 a.m.
Registration & Coffee
11:00 a.m.
Conference Opens With Keynote Speaker Nicco Mele
12:30 p.m.
Awards Luncheon (please don't be late!)
2:30 p.m.
NESNE session – Alternative Funding/Revenue Sources


MNPA Board Meeting

3:45 p.m.
MNPA session – Creative Approaches to New Revenue
NESNE Board Meeting
5:00 p.m.
Conference Cocktail Reception (cash bar)
6:00 p.m.
Yankee Quill Dinner & Awards Presentation
About The Keynote Speaker
Headlining the event this year is Nicco Mele, one of America's leading forecasters of business, politics, and culture in our fast-moving digital age. He is on the faculty at the Shorenstein Center on Media, Politics, and Public Policy at the Harvard Kennedy School.
Awards Luncheon
During the New England Newspaper Awards Luncheon, the top awards from the region will be announced including the Newspaper of the Year Awards, the prestigious Publick Occurrences Awards, New England First Amendment Award, Allan B. Rogers Editorial Award and the Bob Wallack Community Journalist will also be recognized.
Afternoon Sessions
The New England Society of News Editors will present a panel on Possibilities and Pitfalls of Alternative Funding: Grants, Projects and Ethical Considerations. Seeking and utilizing "alternative funding" for projects has become more common in some newsrooms, and has long been part of the business model for public media. Panelists from The Boston Globe, Connecticut Public Broadcasting, The Ground Truth Project, and The New Hampshire Union Leader, will discuss their experiences and challenges with these revenue streams.
Panelists include:
Creative Approaches to New Revenue, will be presented by the Massachusetts Newspaper Publishers Association. Faced with decreasing advertising sales, newspapers are getting creative – developing unique ideas to generate new sources of revenue. From special-focus websites and products to ongoing speaker series, these initiatives are reaching new audiences and even bringing in new advertising dollars.
In this program, panelists from several newspapers will describe initiatives they launched and discuss their overall impact on the bottom line.
Panelists Include:
Yankee Quill Awards Dinner
Capping the day will be the Yankee Quill Awards, where we will pay tribute to five individuals for their exceptional contributions to their communities and our industry.