NOMINATIONS ARE CLOSED FOR 2023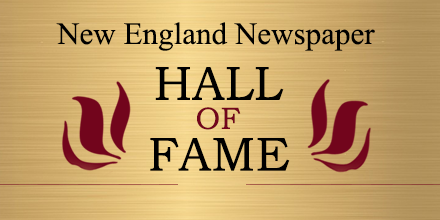 More than 100 individuals have been singled out over the past 50 years. The talent, hard work, and exceptional accomplishments of these individuals provide inspiration to all New England journalists.
Nominees should be people who have made extraordinary contributions to their newspaper(s), the newspaper industry, and their communities. NENPA membership is not required to be eligible for the award.
People who have excelled in any area of newspaper operations are eligible — i.e., editorial, advertising, circulation, production, and administration.
You may nominate those still working in the industry as well as those who have retired. Posthumous nominations are also eligible.
To nominate a colleague in honor of his or her professional achievement and lifetime of contributions, please prepare a letter that describes your nominee's accomplishments and the reasons why you recommend that he/she should be appointed to the Hall of Fame. Be sure to include any supplemental materials, testimonials, etc. that support your nomination.
Email your nomination letter and supporting materials to l.conway@nenpa.com please use "Hall of Fame" in the subject line. Nominations can also be mailed to:
New England Newspaper Hall of Fame
c/o New England Newspaper & Press Association
P.O. Box 2505
Woburn, MA 01801
For further information, please contact NENPA executive director, Linda Conway, at (781) 281-7648, or l.conway@nenpa.com.