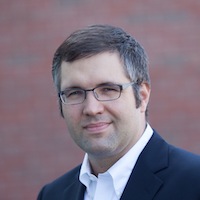 Nicco Mele is a managing director at the Draper Richards Kaplan Foundation. From 2016 to 2019, Nicco was the Director of the Shorenstein Center on Media, Politics and Public Policy at the Harvard Kennedy School. Nicco's prior experience includes founding technology companies, working on political campaigns, and a stint as a media executive at the Los Angeles Times. He has published widely, including the international bestseller "The End of Big: How The Digital Revolution Makes David The New Goliath" published in 2013 by St. Martin's Press. He also wrote and illustrated a children's book titled "Dogs I Have Loved" available on Amazon.
Nicco co-founded the Massachusetts Poetry Festival (where he still serves as board chair) and in 2014 he co-produced a documentary about the poet W.S. Merwin, "Even Though The Whole World Is Burning". Nicco also founded The Lexington Observer, a non-profit local news website in his hometown.
Nicco lives in Massachusetts with his wife, Morra Aarons-Mele (creator of The Anxious Achiever and author of Hiding in the Bathroom) and their three children (and four cats).
For more information on Nicco Mele visit https://nicco.org/.