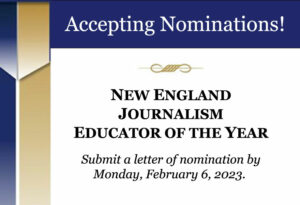 NENPA presents the New England Journalism Educator of the Year award to recognize a professor at a university or college in the six-state region who is doing outstanding work to prepare journalists to lead our newspaper organizations into the future.
Each college in New England is entitled to submit one nomination for the Journalism Educator of the Year award.
To include a professor from your school in this year's competition, simply write a letter in support of someone on your staff who is doing extraordinary work with journalism students. Please explain why you think your nominee merits special recognition, and feel free to provide examples or supporting material if appropriate. Also, please provide contact information for your nominee, so that we can follow up with questions and a notification if he/she is selected.
The nominations will be judged by the board of directors of the Journalism Education Foundation of New England.
The deadline to submit a letter of nomination is Monday, February 6, 2023.
UPLOAD JOURNALISM EDUCATOR OF THE YEAR NOMINATION LETTER
Awards will be presented during the annual New England Newspaper Convention, which will be held in Spring 2023. 
For further information or questions, please contact Linda Conway, NENPA Executive Director, at l.conway@nenpa.com.