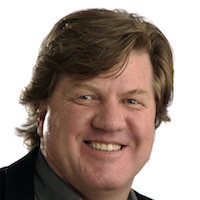 Tim Rasmussen is the Chief Content Officer at Connecticut Public Broadcasting in Hartford, CT; where he oversees all content produced and distributed by Connecticut Public, including Connecticut Public radio, three television channels, and digital and online platforms.
Before joining CT Public, he was the Director of Photography at ESPN where he was responsible for photography at ESPN The Magazine and all digital platforms. In 2017 the Magazine was awarded General Excellence and Best Sports cover by American Society of Magazine Editors. He joined ESPN in 2015 after nearly 10 years as Assistant Managing Editor for Photography at The Denver Post.
Under his direction The Denver Post became known for its exceptional photography and was awarded three Pulitzer Prizes, two for Feature Photography and one for Breaking News Reporting. He established video journalism at the Post where the staff was awarded six National Edward R. Murrow Awards including Overall Excellence and a finalist for a National Emmy in Current News Coverage.
In 1988, he was accepted to the first Eddie Adams Workshop, where he received one of ten awards but, more memorably, he got to dance with legendary National Geographic photographer Jodi Cobb. In 1997, he made Eddie Adam's hit list – the only real accomplishment listed in this bio.
Rasmussen was fired from his first job as a photographer for refusing to allow a picture to be cropped. Fifteen years later, he realized he was a photo editor.
On their first date, Koren, his wife of 22 years, had a newspaper clipping of one of Tim's recently published photo essays saved on her coffee table. Right then, he knew he had found true love – which eventually led to two boys.