NENPA produces a wide assortment of professional development opportunities throughout the year. In addition to the annual conference and convention, NENPA offers a slate of high-quality— yet low-cost— training sessions. NENPA's training curriculum addresses mission-critical issues that are relevant for those who labor in all areas of the newspaper workforce; including news, advertising, circulation, production, promotion, new media, and administration.
Training sessions are offered at locations throughout New England in order to make them most accessible and convenient for members. For those who are not able to travel, seminars are also conducted via webinars.
All of NENPA's workshops are conducted by some of the most knowledgeable professionals serving the newspaper industry.
If you have suggestions for a new training session or would like to be contacted about future workshops, email us at info@nenpa.com!
Online Webinars – Sponsored by the Journalism Education Foundation of New England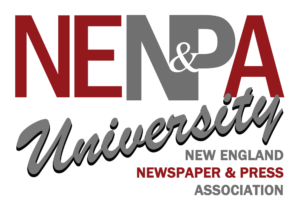 NENPA members have access to programs that are offered annually on writing and editorial topics, print and online advertising sales, technology, social networking, management issues, and much more. These time-efficient webinars are designed to offer fresh ideas to improve job skills, without the need for travel and time away from the office.
Not a NENPA member?
We offer several types of memberships for newspapers, affiliates, students, educational professionals, non-profit news-related organizations, and more.