About The New England Newspaper Convention
Get set to enjoy two jam-packed days of thought-provoking seminars, workshops, and discussions. An extraordinary lineup of experts and successful practitioners will share ideas, information, and advice to help you improve your skills and navigate the future of your news organization. You will learn about best practices, new tools, new approaches and experimentation, and new initiatives underway at papers in our region and the industry. There are plenty of informative sessions to choose from that address the critical issues and exciting opportunities that newspapers face today.

Yankee Quill Luncheon

, 12 pm Friday

The Academy of New England Journalists' luncheon on Friday at noon will honor five current journalists and one historical figure with the prestigious Yankee Quill Award. (see honorees here)

Convention Cocktail Reception and Advertising Awards,
5 pm Friday
The Friday evening Convention Cocktail Reception is the ideal to event to catch up with friends and colleagues. We'll have passed hors d'oeuvres and a cash bar. This reception will include the awards presentation for celebrating excellence in the advertising, circulation, and marketing categories of the New England Better Newspaper Competition. Join us for cocktails and fun at 5 pm, and cheer on your colleagues at the awards ceremony at 6 pm.

Hall of Fame Dinner

, 6 pm Friday
Six new inductees into the New England Newspaper Hall of Fame will be honored for extraordinary accomplishments throughout their careers at the Friday evening dinner. Don't miss this opportunity to pay tribute to these newspaper industry heroes who are an inspiration to us all. The cocktail reception begins at 6:00 pm and dinner at 7:00 pm followed by the induction ceremony. (see honorees here)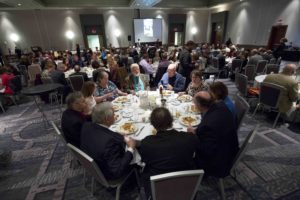 Journalism Awards Banquet, 6 pm Saturday
The New England Better Newspaper Competition Awards Banquet takes place on Saturday evening. Join us for cocktails at 6 pm, followed by dinner at 7 pm. We'll cap off the convention by announcing the winners in the journalism categories of the New England Better Newspaper Competition — honoring the very best journalism in our region this past year.
Visit With Industry Vendors
The trade show will be open from 9 a.m. to 5 p.m. on April 29 and 30. Meet industry suppliers that offer solutions to help your news organization thrive in today's changing and challenging media environment.