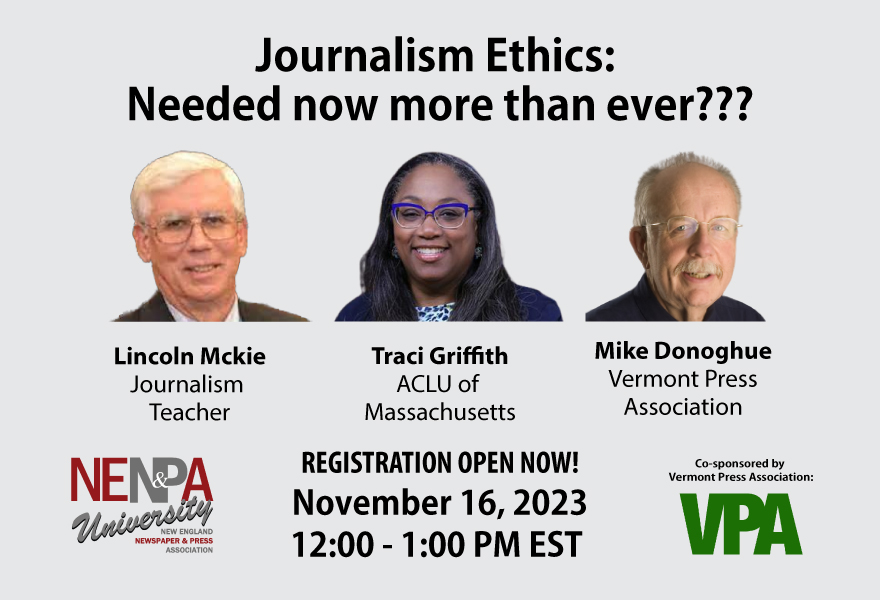 Don't miss this lunchtime NENPA U Ethics training session on November 16 with leading New England experts!
Journalism ethics have long stood as a cornerstone in our newsrooms. Are they as important and as followed in our newsrooms today? This session will offer opinions, including yours, on that question. Our panelists also will provide their thoughts – and ask for yours – on how to avoid or escape the thorny ethical thickets that often crop up in our newsrooms. We'll share some anecdotal examples of dealing with touchy issues on deadline and invite you to join us in some exercises on how to handle decisions involving ethics. You're invited to bring up at this session any difficult ethical cases you've faced, to explain how you handled them and whether fallout ensued. Our panelists will weigh in on these cases from their experience during the Q&A at the end of the session.
Presented by Traci Griffith, Racial Justice Program Director for the ACLU of Massachusetts, Mike Donoghue, Executive Director for the Vermont Press Association, and Link McKie, Consultant and Journalism Professor. Please click on each speaker's name to view their biography.
The session happens on November 16 from 12:00 -1:00 pm and is being held inside the NENPA member community. NENPA member tickets are free, non-member tickets are $15 each. If you have any problems registering or are not getting the free member ticket option please email t.cleary@nenpa.com for assistance.
Sponsored by the New England Newspaper & Press Association and the Vermont Press Association.