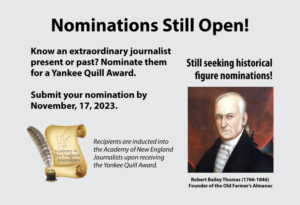 Your help is needed to recognize the efforts and dedication of those in New England who have had a broad influence for good in journalism. Nominations are still being accepted for the Yankee Quill Award through Friday, November 17, 2023.
The award is administered by the New England Society of News Editors Foundation, and recipients are inducted into the Academy of New England Journalists upon receiving the Yankee Quill Award at a celebratory luncheon during the annual New England Newspaper Convention, which will be held at The Waltham Westin Hotel on March 22-23, 2024.
Selection for the award is not based on a single distinguished achievement. Rather, the Yankee Quill recognizes the effort and dedication of those in New England who have had a broad influence for good in journalism. In other words, it is not based on a certain achievement in reporting, writing, or editing or on the fact that someone runs a good newspaper, broadcast show, or station. Instead, it honors a lifetime of contribution to the profession.
Nominations may range across the entire field of journalism — including daily and weekly newspapers, radio and television news coverage, and other forms of media that meet the tests of journalism.
Members of the Academy of New England Journalists, along with the representatives of several New England media associations, will select the persons to receive the Yankee Quill Award this year.
The link to the nomination form can be found by clicking here.
Nominations may be emailed to: quill@nenpa.com or hard copies may be mailed to:
Yankee Quill
c/o NENPA
PO Box 2505
Woburn MA 01801
For further information contact:
George Geers, academy chair, gnews@empire.net, (603) 785-4811 or Linda Conway, academy clerk, l.conway@nenpa.com, (781) 281-7648
We are also seeking Historical Figure Nominations
Last year's historical figure Yankee Quill Award was presented to Robert Bailey Thomas (1766-1846), founder of the Old Farmer's Almanac, posthumously for his historic contribution to specialty weather and agriculture journalism.
History nominations generally are primarily focused on those who had a significant impact on journalism starting in New England from the early years of the founding of our country up to the last 100 years or so.
The History Award category was begun in 2004 with the selection of Benjamin Edes (Boston Gazette).
Others recognized include:
Benjamin Edes (Boston Gazette)
William Lloyd Garrison (The Liberator)
John Greenleaf Whittier (19th century poet, editor)
Gen. Charles H. Taylor (Boston Globe)
Mary Baker Eddy (Christian Science Monitor)
Sarah Josepha Hale (poet novelist, Godey's Women's Magazine editor)
Isaiah Thomas (Worcester Gazette)
Ann Smith Franklin (Rhode Island Gazette)
Samuel Bowles I & Samuel Bowles II (The Republican)
Thomas Green (The Courant)
James Franklin (New England Courant)
Henry Martyn Burt (Among the Clouds)
William Monroe Trotter (Boston Guardian)
Nominations with a summary of the work of the candidate and reasons for consideration should be emailed to Richard Lodge at richardklodge@gmail.com, and Rod Doherty, history committee chairman, at roddoherty411@gmail.com.