The largest newspaper convention in New England is only a few weeks away. This year the convention is loaded with sessions and panels addressing many of the latest developments, opportunities and obstacles in the newspaper industry.
With over 600 attendees, the event is not only an opportunity to learn and gain some fresh ideas, but a chance to network with other newspaper professionals throughout New England.
Headlining the convention for 2019 is Jason Rezaian. Mr. Rezaian served as Tehran bureau chief for the Washington Post and is now an opinion writer for the paper and contributor to CNN. He was taken into custody by Iranian authorities in 2014 and charged with espionage. He was detained at Evin Prison in Tehran and served 544 days before his release was negotiated.
Don't miss out on the opportunity to hear from this amazing journalist. Rezaian's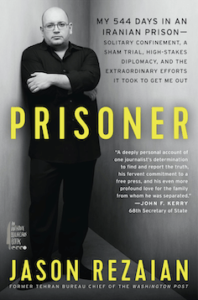 determination to continue reporting and writing after a horrific ordeal is truly inspiring. Rezaian's new memoir, Prisoner: My 544 Days in an Iranian Prison — Solitary Confinement, a Sham Trial, High-Stakes Diplomacy, and the Extraordinary Efforts It Took to Get Me Out., will be available to purchase at the convention.
Here are just a few of the 2019 session topics that you don't want to miss …
Trauma Journalism: Self-Care For Journalists
50 Ideas in 50 Minutes
Facebook: Is It Your Friend Or Foe And How To Leverage It For Your Business
How To Find, Train, Retain, And Motivate A Successful Digital Sales Staff
Podcasting 101
Geo-fencing And Geo-targeting Success
Place The Visual First
Video: Beyond The Pivot
Covering Gaming: What's in the Cards?
One-On-One Sessions with leading design consultant Ed Henninger & photojournalism Pulitzer nominee Bob Holt (advanced sign-up required)
And much, much more …
The New England Newspaper Convention will be held on February 15th and 16th at the Renaissance Boston Waterfront Hotel in Boston, MA.
Register 5 or more people and pay just $500 for your entire staff to come to two days of training!