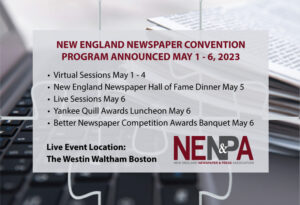 The annual New England Newspaper Convention will be held May 1-6, 2023. We will start the week with virtual programming on May 1-4 and end the week with live celebratory events and programming sessions on Friday, May 5, and Saturday, May 6.
We aim each year to tackle the most important challenges our industry faces and we are excited to announce the program of virtual and live sessions that will address these issues and provide training and resources to make your publication a success!
Plan to join hundreds of industry professionals for exceptional training and networking, and catching up with friends and colleagues. Stay over and take advantage of our special room rate of $149 per night, with free parking.
We will be providing several networking opportunities open to all attendees and honoring the best in the New England newspaper industry throughout the convention with our other ticketed events. Click the link below to register today!
If you have any questions about the event please send an email to NENPA Executive Director, L.Conway@nenpa.com.