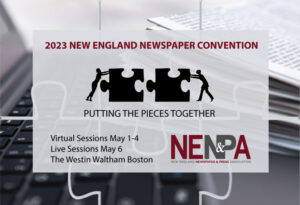 The annual New England Newspaper Convention will be held May 1-6, 2023.
We'll be shaking things up a bit this year with a new location and schedule. To be sensitive to everyone's time—we're offering several virtual sessions May 1-4 and presenting the in-person workshops, roundtable discussions, trade show, and celebratory networking events on May 5 and 6 at the Westin Waltham Boston Hotel.
Plan to join hundreds of industry professionals for exceptional training and networking with friends and colleagues. Stay over and take advantage of our special room rate of $149 per night.
We will also be honoring the best in the New England newspaper industry throughout the convention with our other ticketed events:
Friday, May 5, New England Newspaper Hall of Fame induction dinner
Saturday, May 6, Yankee Quill Awards luncheon
Saturday, May 6, Better Newspaper Competition Awards dinner
The full schedule and program are available now, please click the PROGRAM link below for more info and the HOTEL INFO link to make your hotel reservations. If you have any questions about the event please send an email to NENPA Executive Director, L.Conway@nenpa.com.