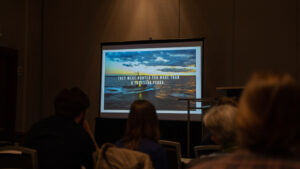 One of the biggest stories of our time is climate change and the struggle to reverse its human-caused effects. On April 30, 2022, during the NENPA Convention in Boston, five panelists sat down and discussed the issue of climate change and related reporting.
Convention attendees heard from The Boston Globe's David Abel, Society of Environmental Journalist's president Sadie Babits, Frank Mungeam from Covering Climate Collaborative, and Leslie Garrett and Jamie Kageleiry from Bluedot Living about how journalists and newsrooms can be more effective in their climate reporting.
According to Mungeam, local news outlets are much more effective, personal, and best situated to be the messenger for affected communities.
"At the national level, it's easy to turn climate into a political issue," said Mungeam. "Locally, it's personal, not political. You go out your door and you experience the effects."
Abel explained how over the past ten years, science has become much clearer, and that the climate crisis has become the most important story of our time. He said that journalists must play a more active role in reporting climate threats.
"It reflects…this conversation about the urgency of what we as journalists should be doing if we're covering climate change," said Abel. "And that is to make this issue front and center, to make it clear that it is not a distant, abstract issue, but one that is affecting people now and is likely to affect people in much greater ways in the coming years." 
Mungeam said that, among young people, the climate crisis is not a partisan issue. Younger generations from across the political spectrum are expressing their concerns over climate change and believe action must be taken to combat it. Babits agreed that younger generations are at the forefront of the climate movement, and she said the climate crisis is one of the most popular beats among student journalists.
"This younger generation of journalists coming up," said Babits "they see this completely different because they do feel like they have to say something and do something."
Babits praised this new generation of journalists saying, "They give me so much hope of where our profession is going, and how we're going to cover climate change stories."
She also explained the importance of solutions journalism reporting.
"I would strongly encourage you to bring the solutions piece in and…keep it centered around people," said Babits.
The panelists also discussed common obstacles to climate coverage, such as misinformation and climate change deniers, and they offered suggestions.
"If they seem to have a point of view that just lacks any coherence or semblance of proximity to facts, I try to, as gently as possible, steer them to 'what is the evidence?'" said Abel when discussing his approach to those misinformed on climate science.
Mungeam chimed in that by reporting on, engaging with, and questioning climate deniers, journalists could actually be "getting oxygen to the rumor." 
"How do we get in front of all the audiences that experience this issue? How do we reach them? How do we communicate effectively?" asked Mungeam. "How do you take a planet-sized problem and report at the local level?"
Abel explained that journalists don't need a degree in environmental science or sustainability to report on the topic.
"You assume you know nothing, and you ask often the most simplistic questions. Try to understand things from the ground up," said Abel. "That's what journalism is all about. It's not making assumptions but trying to vet what we're looking at."
Lastly, when asked how to deal with the bleakness of climate change while reporting, Abel advised that while there is a lot to be concerned about, there are still ways to remain hopeful by reporting on possible solutions.
Frank Mungeam has provided his slides from the presentation with the resources he referenced.
Download Climate Resources Slides
By Samuel Elwell, RWU Class of '23, Managing Editor | The Hawks' Herald