Michael Donoghue, a retired longtime reporter for The Burlington (Vt.) Free Press, has won a national scholastic-journalism award.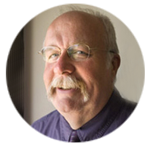 Donoghue, executive director of the Vermont Press Association and an adjunct professor at St. Michael's College in Colchester, Vt., will be honored as a Friend of Scholastic Journalism by the Journalism Education Association at the National High School Journalism convention Nov. 18 in Dallas.
Donoghue "is a true friend of scholastic journalism," the association said in a news release. "Having a long-standing career as a journalist and serving as an adjunct professor of journalism at St. Michael's College, Donoghue understands the importance of student voices so much so that he took the lead in pushing the New Voices legislation into Vermont law. When the bill finally passed, he made sure that the student journalists were present to witness the governor's signing of the bill at a special ceremony" for the law. The law, enacted earlier this year, aims to guarantee freedom of expression and the press for student journalists and their advisers and teachers.
Donoghue helped coordinate various groups, including the Vermont Press Association and the New England First Amendment Coalition, that endorsed the legislation on behalf of students, teachers and advisers.
Two others will also receive the same national recognition at the Nov. 18 convention.
This story was based on information from the Journalism Education Association and The Burlington (Vt.) Free Press.