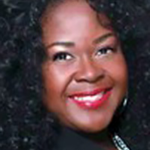 Tanisha Leonard is the president of RTM360°, a cultural marketing firm that creates unique communications programs geared towards the African American community. In addition to the day-to-day management of RTM360° Tanisha is a key member of the executive team for RTM360's parent company, Real Times Media, driving business growth via the development of custom marketing programs and partnership opportunities related to its six flagship brands— Atlanta Tribune: The Magazine, the Atlanta Daily World, Who's Who In Black, the Chicago Defender, the Michigan Chronicle, and the New Pittsburgh Courier. She also serves on the board of directors of the Local Media Foundation.
Tanisha has a wide array of experience in managing marketing, strategic planning, and creative development processes as well as extensive experience in event production, corporate communications and media relations.
Prior to joining RTM360° and Real Times Media, Tanisha was the director of communications for the nation's number one video network at the gas pump, Gas Station TV. Previous to that role, she was marketing manager for third-party logistics provider, NLM where she developed and implemented marketing strategies for the $300 million expedited freight manager. Before joining NLM, she held positions of increasing responsibility at several large promotions, PR and advertising agencies.
Tanisha holds a bachelor's degree in advertising from Michigan State University in East Lansing, Mich.