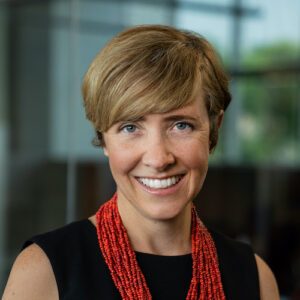 Sadie Babits guides Cronkite News students who are interested in pursuing sustainability reporting, and she directs this professional program's audio program. Before coming to the Cronkite school, Sadie spent nearly two decades as a journalist and editor covering environmental stories primarily for public radio. Her work has aired on public radio stations throughout the West and on National Public Radio shows including Morning Edition and All Things Considered.
Sadie came to the Walter Cronkite school as a visiting professor in 2018 after completing the prestigious Ted Scripps Environmental Reporting fellowship at the University of Colorado in Boulder where she studied public land policy, environmental policy and Native American law. Previously she was the news director at Colorado Public Radio where she set the strategic direction for the newsroom and oversaw environmental coverage.
Sadie serves as the president of the Society of Environmental Journalists, the largest member organization of environmental journalists in the U.S. which has opened doors to help champion access for environmental journalists with federal agencies such as the Environmental Protection Agency and the U.S. Interior Department about government transparency and media access.
Her work has been honored by the Society of Environmental Journalists for her overseas reporting on water conflict and scarcity in Kenya, and she's the recipient of a national Edward R. Murrow award for investigative journalism among many other professional accolades. She also helped guide and edit the reporting on an investigative audio and digital story called "Missed Treatment," about thousands of disabled veterans who lost their benefits during her work at Colorado Public Radio. That reporting done in a collaboration with NPR was honored with a DuPont Award in 2017.