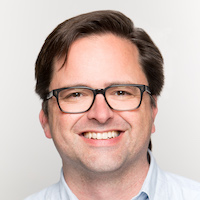 Rodney Gibbs leads the Texas Tribune's Revenue Lab. Launched in 2020, RevLab helps newsrooms around the world adopt the Tribune's playbook for financial sustainability, and it experiments with new revenue ideas, which it tests locally and then shares freely.
A TV writer turned entrepreneur, Gibbs founded and sold two digital media companies before joining the Tribune in 2012 as its chief innovation officer. In 2015, he became the Tribune's first chief product officer.
He is a board member of the Online News Association, an organizer of Hacks/Hackers Austin, and a past board member of KLRU/Austin PBS, KUT/Austin NPR and the Austin Film Society.
Gibbs has a bachelor's degree from Rice University and a master's degree from the Michener Center for Writers at the University of Texas at Austin.
Outside of work, he's passionate about film, record collecting and coaching his son's baseball team.