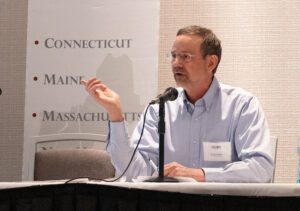 A former journalist himself, Richard Watts of Hinesburg, Vt., knows there's a crisis facing local news, and he hopes to address this dilemma by linking news outlets with colleges across the country.
Watts, director of the Center for Research on Vermont and co-director of the reporting and documentary program at the University of Vermont, helped launch the school's Center for Community News on June 22. The initiative aims to inspire collaboration between local news organizations and students by weaving together a network of community journalism programs.
Many academic and community news programs already exist in the United States, including UVM's own Community News Service, also founded by Watts in 2019. Through these programs, students gain experience in professional journalism and provide content to local newspapers.
But, until now, nobody has collected all of these partnerships in one place, Watts said.
"If I was a university and I wanted to start one of these programs, I wouldn't know where to begin."
So, he said, the Center for Community News will provide a blueprint to encourage more colleges to start community news partnerships, by developing a series of case studies with input collected from programs around the country.