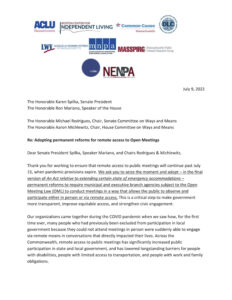 This Friday, July 15, is the expiration date for virtual access to government meetings in Massachusetts. NENPA, and the New England First Amendment Coalition, joined the ACLU of Massachusetts, the Massachusetts Newspaper Publishers Association, MASSPIRG, Common Cause Massachusetts, and other advocacy groups to send MA state legislators a letter on July 9. In support of legislation making permanent in-person and remote access to government meetings.
H.4991 would require public bodies subject to the Open Meeting Law to allow the public to attend in person and via remote access. The bill would also ensure that remote access is available equally for people with disabilities.
"This is a critical step to make government more transparent, improve equitable access, and strengthen civic engagement," the group wrote in the letter.
Join us in asking the Massachusetts Senate to make these reforms permanent!
For more information, read the full story on the New England First Amendment Coalition website