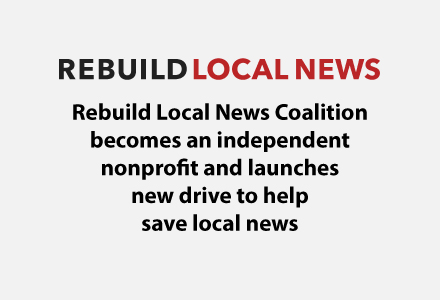 The Rebuild Local News Coalition, an alliance of local news organizations launched in 2020, has now become an independent nonprofit organization and plans a drive to advance a range of public policies to address the accelerating crisis in local news that threatens so many communities.
The Coalition will research, develop and champion public policies at the state, local and national levels – including payroll tax credits to hire and retain local reporters, proposals to target government advertising spending toward local news instead of social media, and reducing the influence of hedge funds on local newspapers.
The organization is funded by a combination of support from journalism organizations and leading philanthropic organizations. Philanthropic and private sector supporters include the John S. and James L. Knight Foundation, the Ford Foundation, Microsoft,  the Yellow Chair Foundation, the John D. and Catherine T. MacArthur Foundation, the Charles H. Revson Foundation, the Argosy Foundation, the Posner Foundation. Previous support has come from Democracy Fund.
Steven Waldman, who as president of Report for America created the Coalition, will become the full-time president of the organization. The Coalition was incubated at the GroundTruth Project, home of Report for America, and has already pulled together a broad-based coalition including publishers and labor unions, rural weeklies, nonprofit newsrooms, state press associations, and civic organizations. Together, they represent more than 3,000 local newsrooms.