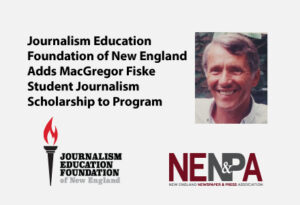 In 2022, the MacGregor Fiske Award was incorporated into the Journalism Education Foundation of New England Scholarship Program. This generous contribution will allow the program to bestow a scholarship named in honor of Mac Fiske, who died in 2009 at 75.
MacGregor Fiske spent his career as a sportswriter, sports editor, news editor, city editor, copy editor, and weekly columnist. Fiske was a much-loved mentor known for his warmth, kindness, and keen editing.
The MacGregor Fiske Award was established by his wife, Mary McCann Fiske, and was first bestowed in 2013. She started the award to recognize talented, hard-working journalists who are relatively new to the field, encouraging them to persevere in the profession to sustain an informed society.
McCann Fiske decided to transfer the funding to NENPA's Journalism Education Foundation to ensure its continued impact and reach in the years to come through scholarships to promising journalism students.
"Mac never sought the limelight, but he would have felt good about helping individual journalists and seeing the progress of those the Fiske Award has recognized," McCann Fiske said. "I'm hopeful that this will continue to help strengthen journalism in New England, especially newspapers, which we know can mean so much to a community."
The New England Newspaper and Press Association awards up to 10 scholarships each year to aspiring journalists through the Journalism Education Foundation of New England. Applications to be considered this year are open through Friday, March 31, 2023.
College students or high school seniors, who are residents of New England (CT, MA, ME, NH, RI, or VT) and are studying and acquiring work experience that will prepare them to work in the field of journalism are eligible to apply.
Please contact Linda Conway at l.conway@nenpa.com if you would like to make a donation to support the MacGregor Fiske Scholarship, the general Journalism Education Foundation of New England scholarships, or if you are interested in honoring a mentor or a loved one with a Journalism scholarship in their name.