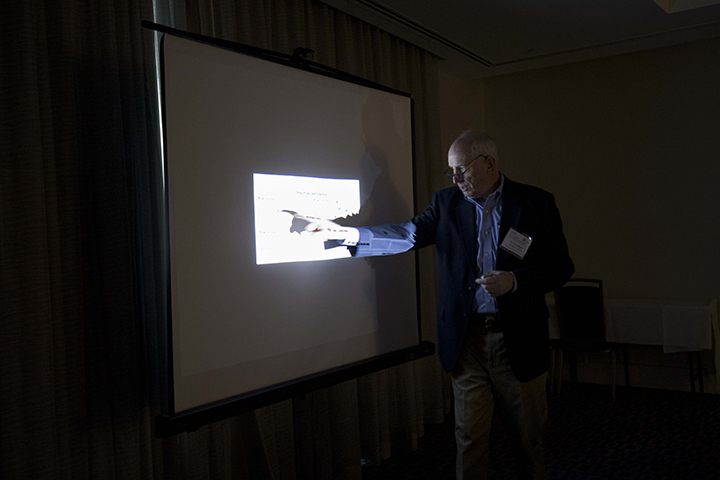 Protecting public notices
by making them a public service

By Kaitlyn Mangelinkx
Bulletin Correspondent
"Here's an oxymoron — trusted politician."
The source of that comment, Ed Henninger, sees public notices as a tool for keeping public officials accountable. But as many newspapers have fallen onto hard economic times, public notices are becoming something else — a way to help save a newspaper.
Governments are required to have public notices published. Newspapers are paid to run the notices, a source of income without which some newspapers might not survive. In recent years, however, some government officials have been trying to find a way to publish public notices by bypassing newspapers and using government websites.
Henninger, director of Henninger Consulting in Rock Hill, S.C., thinks that losing public notices would be disastrous for the newspaper industry. On Saturday, Feb. 24, he led a session explaining the situation at the New England Newspaper and Press Association winter convention in the Renaissance Boston Waterfront Hotel in South Boston.
Henninger shared his tips with an audience of about 10 people in a session titled "Public Notice Redesign — Giving them their due."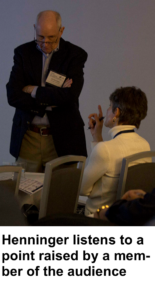 The key to saving public notices is getting people to care, Henninger said.
His proposals for get people to care might be concerning to editors, however. Henninger suggested using bigger fonts, adding headlines, putting public notices on their own page, and adding pictures. All of those suggestions can get expensive. Audience members raised those concerns, but Henninger remained focused.
"Do you want to keep the public notices or not?" he asked.
Spending a little time and money on public notices now can save public notices, and thus newspapers, in the long run, Henninger said.
When discussing the changes, Henninger showed slides of traditional and improved public notices. One common change was the addition of a section header and tagline.
"Protecting your right to know," Henninger declared, looking over the various taglines he uses. "I love that phrase."
Although the changes seemed drastic, and audience members raised concerns about paying for extra staff to make the changes, existing newspaper software would make the changes simple, Henninger said.
"You can do it in what, 30 seconds?" Henninger said.
One younger audience member replied, "If that."
Ultimately, Henninger's intention is "creating a news-look kind of page." By keeping public notices in a similar format to the rest of the paper, ideally readers will go through public notices in the same way they read the rest of the paper, he said.
To maximize interest, Henninger suggested "making this as local as possible," with section headers, including pictures of the local courthouse or other local features. Other local visuals could include annotated maps pinpointing regions being affected by certain public notices.
Henninger said that by keeping the public engaged with public notices, he hopes to create a reaction to any attempt to remove public notices from newspapers. Through small, simple changes, public notices can become a portion of the newspaper that readers will fight to protect. For many local papers, public notices are critical. Getting local readers to enjoy public notices means readers will fight to protect public notices, he said.
"We have to start looking at these as public service," Henninger said.
Government officials cannot be trusted to publicize the information in public notices, so newspapers have not only a business incentive but a moral obligation to improve their treatment of public notices, Henninger said.
"We're giving them, finally, their due," he said.