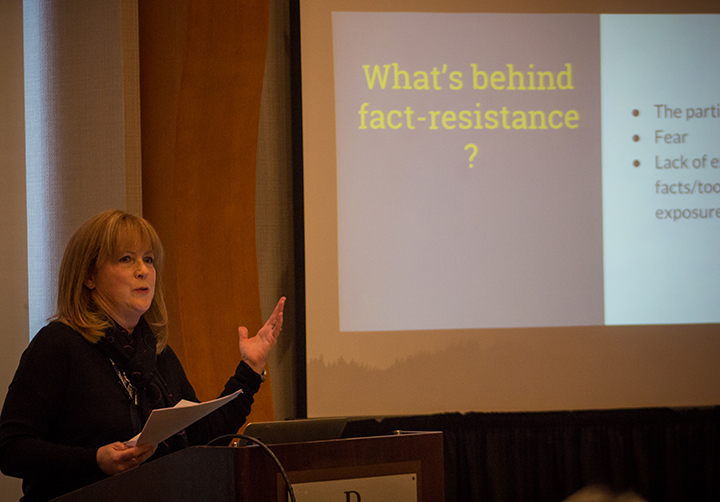 Fighting the
'firehose of falsehood'
By Kaitlyn Mangelinkx
Bulletin Correspondent

"Fear has a lot to do with what people believe and why they believe it."
Jane Elizabeth, director of accountability journalism at the American Press Institute, used that quote to begin her session, "Reaching the 'fact-resistant': How to engage partisan audiences through trust and transparency," at the New England Newspaper and Press Association's recent winter convention.
Elizabeth explained to an audience of about 40 the basics of the fact-resistance issue and suggested strategies to combat it.
"There have always been fact-resistant people," but the difference now is the partisan divide in interpreting facts, she said. Consumers face a constant "firehose of falsehood" about American politics, which leaves consumers confused as to what the truth is, as well as suspicious of anything they hear, she said.
Audience members shared stories of how they had dealt with fact-resistant readers in the past, from correcting information in letters to the editor to responding vigilantly to Facebook trolls.
Elizabeth directed the audience to a site called "Poll Everywhere," where she could send questions that audience members could answer on their phones. The site turns answers into a word cloud, with the words that appeared largest in size being the most common answers.
For the first question — "Who/what do you trust?" – the responses of audience members varied. Common answers included 'mom,' The New York Times, family, experts, science, and, at this New England event, Tom Brady.
That question shifted the focus of the session toward trust; people trust sources they know. When readers don't know journalists, they might not trust journalists. And as Elizabeth noted, "if someone doesn't trust you, they don't believe you."
Elizabeth offered "15 quick tips that, hopefully, you can go back and use in your newsroom."
The tips focused on knowing your readers and giving them a way to know you, along with learning more about people spreading fake information.
Elizabeth offered ways to use the tactics of fakers to spread facts. One popular suggestion was to "fight fake memes with fact memes," repurposing one of the most effective methods of spreading false information.
Elizabeth used an acronym – SHIP IT– to explain transparency, which she sees as critical to building a relationship with readers and encouraging them to believe facts.
S: Show your work
H: Hold events
I: Identify your reporters
P: Post your policies
I: Improve labeling
T: Translate your terminology
Using those strategies, news outlets can attempt to connect more to audiences, removing some of the mystique of reporting and clarifying news jargon in a way that audiences can understand and appreciate, she said.
Her session was held Saturday, Feb. 24, at the Renaissance Boston Waterfront Hotel in South Boston.