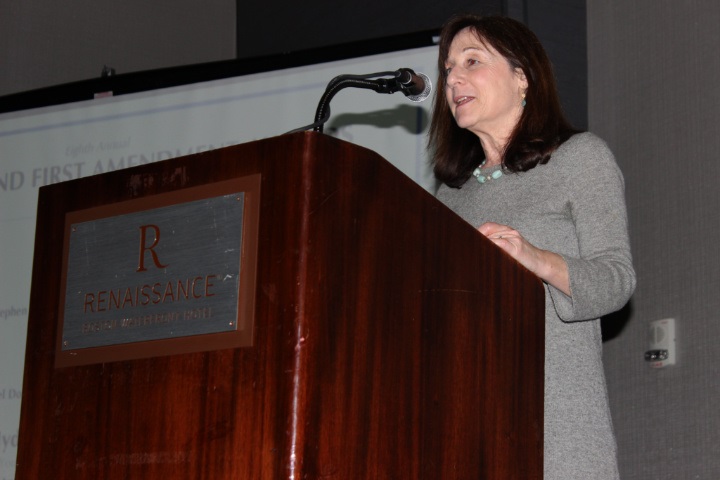 'The press is to serve the governed, not the governors.'
— Jane Mayer, Writer, The New Yorker
NEFAC award recipients rewarded for doggedly seeking public records, truth
By Rebekah Patton
Bulletin Correspondent
Recipients of honors at the New England First Amendment Coalition's 2018 awards luncheon did not err on the side of caution in their speeches, but instead they championed the sides of truth and justice.
More than 240 guests congratulated the recipients of the three awards, including the Stephen Hamblett First Amendment Award to Jane Mayer of The New Yorker; the Michael Donoghue Freedom of Information Award to Todd Wallack of The Boston Globe; and the Antonia Orfield Citizenship Award to the Hyde Square Task Force, based in Jamaica Plain, Mass.
The luncheon was held Friday, Feb. 23, at the Renaissance Boston Waterfront Hotel in South Boston during the New England Newspaper and Press Association's winter convention.
The recipients highlighted the importance of persistence and resilience in their careers, and exercised unwavering dedication to the First Amendment.
Emcee Ed Harding, recognized on multiple occasions for his work on-air and on-scene with WCVB's NewsCenter 5, said: "For everyone in this room conducting the fight, keep fighting."
Harding said the fight for exposing truth continues.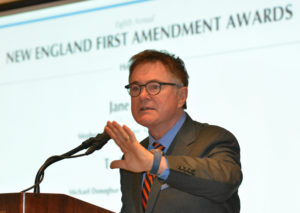 He shared his struggles with trying to obtain what is supposed to be public information. Among his examples: A team of five investigators attempting to obtain a full after-action report about the Boston Marathon bombing, with complete details of law enforcement involvement. Although the full 440-page report was released to the news investigators by the Massachusetts state police, nearly every page had redactions on it, Harding said.
He then held up a page from the report that was entirely blacked out with redactions, except for a small vertical sliver of readable space. Members of the audience nodded, familiar with the sight.
Two members of the Hyde Square Task Force, Mabel Gondres and Shayne Clinton, accepted the award for the task force. Both are high school seniors, and have been members of the Task Force since ninth grade.
They discussed the uncovering of a 1993 state mandate, requiring TD Garden to hold fundraisers annually for youth recreation facilities, and showing that the state mandate had been ignored for more than 20 years. The audience gave them a standing ovation.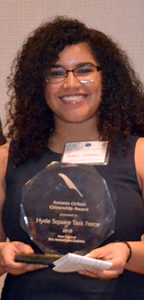 "I was nervous," Gondres said, referring to having dozens of news outlets inquiring about their disclosure. "But I felt empowered that people were going to find out the truth and what was happening with injustice."
Gondres discussed the group's persistence, despite several failed attempts in contact TD Garden.
"Throughout all of this, I still don't understand how TD Garden can violate a law for over 20 years. No one seemed to care," she said. "What if I didn't pay our state taxes for 24 years? I definitely would be receiving some sort of punishment."
TD Garden has agreed to pay $1.65 million toward building a community recreation center in Jamaica Plain. The Hyde Square Task Force had said TD Garden owed $14 million.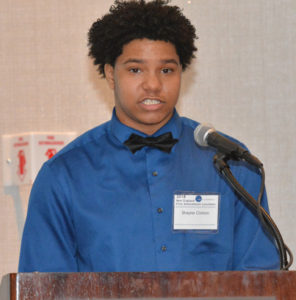 "People like us really need to step up and fight for our cause, and continue to make noise for justice," Gondres said.
Clinton said: "If we do our research and keep to the facts, we can expose even the most powerful people in the country."
Wallack, after receiving his award, discussed his experiences in seeking to have the First Amendment upheld. Wallack has worked for the Boston Globe since 2007, and is now an investigative reporter specializing in data journalism, public records and financial reporting.
"Everybody who has filed a public records request in Massachusetts has a story to tell," he said.
Massachusetts remains the only state in the country where someone can be arrested for serious crimes such as rape or sexual assault, and the public does not have access to that information because it is kept in a confidential log, Wallack said.
Massachusetts is also the only state where the handling of public-record appeals is split between two different agencies, Wallack said. "Unless both agencies agree, nothing happens.
"So what can we do about this?" Wallack said. "One thing we can do is write about it."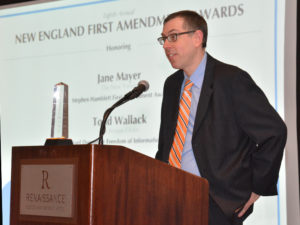 And that's just what he has done. Wallack recounted his trouble with accessing public records, and with the public having similar issues accessing records.
Wallack said one of the best ways to hold agencies accountable is to file a lawsuit.
Wallack said that for the future, "we need to think about ways to change the law."
As she accepted her award, Mayer said: "The press is to serve the governed, not the governors."
Mayer has been a writer for the New Yorker since 1995, and is best known for accountability journalism and for exposing the underpinnings of powerful institutions. She is based in Washington, D.C.
Mayer said journalists should consider the consequences of what they write, and should be fair.
"There is a difference (between) fact and opinion; it is a lesson no journalist can learn too early or too often," she said.
She discussed how amplifications of falsehoods spread virally through social media, and how huge segments of society can be misled in a matter of minutes.
The unfiltered free-for-all is why it is growing more difficult for serious reporters to distinguish themselves, Mayer said. This "instant information distribution technology" can discredit the authenticity of publications, and it remains the responsibility of journalists to protect free speech and truthful speech.
Mayer said that in 2010 two investigators were hired in hopes of undermining her credibility after she wrote an investigative report on the outsize political influence of two billionaire brothers, Charles and David Koch. No errors were found in her report, Mayer said. If that had not been the case, her career could have been brought to an end, she said.
Instead, several colleagues publicly defended her work and her integrity, Mayer said.
"When those (journalists) are attacked, I hope all of you will jump into the fray and speak up for each other … This is all of our fight," Mayer said.
After Harding returned to the podium to conclude the ceremony, he held up a redacted paper and said: "This is not a stop sign. This is a go sign."