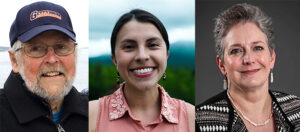 New Hampshire Humanities invites the public to a free event, "Stop Scrolling! Journalism, Objectivity, and the Future of News," on Wednesday, November 2, at the Rex Theatre, 23 Amherst Street, Manchester. Register for the in-person event, which includes a reception at 5:30 pm followed by the program at 6:30, HERE or sign up to access the livestream HERE, or at www.nhhumanities.org.
Journalism and media are changing in ways we can't predict and often find uncomfortable. Balancing biases, rooting out mis/disinformation, and slogging through a never-ending news cycle is overwhelming, especially with the internet's infinite information. If the newspaper was the pinnacle of the last great information age, where is journalism headed today? How do we navigate content and our responsibilities as readers? And, finally, how do we use that information to do something besides becoming overwhelmed?
This conversation, moderated by Dr. Kimberly Lauffer of Keene State College, will bring together Mike Pride, historian, author, former editor of the Concord Monitor, and Pulitzer Prize committee member, and Daniela Allee, senior news editor at NH Public Radio. They will consider how the history of journalism can help us make sense of the news today and the future of news media.
The event is part of the Mellon Foundation's "Democracy and the Informed Citizen" initiative (DATIC), administered by the Federation of State Humanities Councils. DATIC seeks to deepen the public's knowledge and appreciation of the vital connections between democracy, the humanities, journalism, and an informed citizenry. NHH thanks the Andrew W. Mellon Foundation for their generous support, and the Pulitzer Prizes for their partnership. For questions and more information, please visit www.nhhumanities.org, or contact NHH staff at programs@nhhumanities.org.
New Hampshire Humanities is an independent, statewide nonprofit, NHH made possible last year 496 free public programs and digital broadcasts reaching 54,951 people in partnership with 343 organizations in 92 communities, to engage all citizens, regardless of their age or educational level. For more information about New Hampshire Humanities, please visit www.nhhumanities.org.