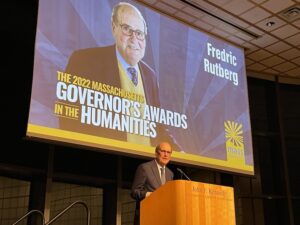 Fredric Rutberg, president and publisher of New England Newspapers, Inc., received a Governor's Award in the Humanities at the John F. Kennedy Library and Museum in Boston on October 26.
Rutberg was selected for helping revitalize a historic newspaper, The Berkshire Eagle (owned by New England Newspapers, Inc.), and for championing a vibrant and free press.
"I must say it's a big honor, and to be even considered among the list of previous awardees is humbling," Rutberg said in an interview before the ceremony.
Rutberg, was one of four honorees in the 2022 Governor's Awards in the Humanities hosted by Mass Humanities.