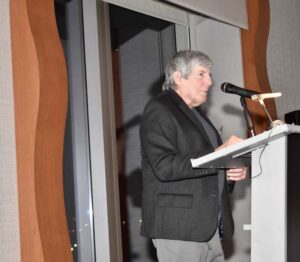 John Dennis Harrigan passed away at age 75 on Monday, Dec. 26, at the Upper Connecticut Valley Hospital after a long illness, according to his sister, Mary Trowbridge.
Harrigan was inducted into the New England Newspaper Hall of Fame in 2020 and has been an important part of New Hampshire journalism and newspapers, both daily and weekly, for more than a half-century.
In their lengthy nomination of Harrigan, co-nominators Joseph W. McQuaid of the New Hampshire Union Leader and Sunday News, and Nancy West, publisher of InDepthNH.org extolled his "more than a half-century illustrious career as a statewide reporter, outdoor writer, and North Country newspaper owner."
Harrigan is well known to readers at the New Hampshire Sunday News, and his column, "Woods, Water & Wildlife," was still running long after he left the paper's employ, continuing the column for a 37-year run. As publisher of the Coos County Democrat, he founded the weekly direct-mail tabloid, the Northern Beacon.
"Harrigan's columns, editorials, and feature writing have regularly presented a view of New Hampshire nature and wildlife to a statewide, often suburban readership that would otherwise be lacking in that perspective," they wrote.
"His informed, respectful, and often humorous columns have introduced and educated generations of readers to New Hampshire's outdoor vistas and wildlife," they continued. "Sometimes, he just rants, and even when he is deeply pissed off, his words are a joy to read."