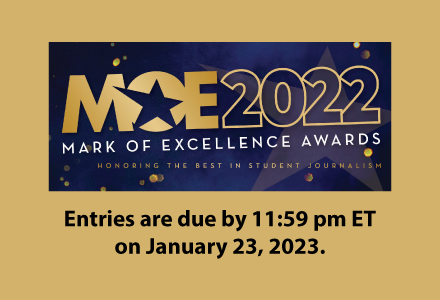 Annually, the Society of Professional Journalists presents the Mark of Excellence Awards, honoring the best in student journalism.
Most categories are first judged on the regional level. First-place regional winners advance to the national competition, and most are recognized at their respective regional SPJ conference in 2023. National winners will be showcased on spj.org.
Entries are due by 11:59 p.m. ET on January 23, 2023.
New this year: Some categories are national only, with all entries immediately going to national judging.
In addition to physical awards and recognition, two awards carry cash prizes. The Corbin Gwaltney Award for Best Student Newspaper, large and small divisions, each is accompanied by a $5000 prize courtesy of the Chronicle of Higher Education.