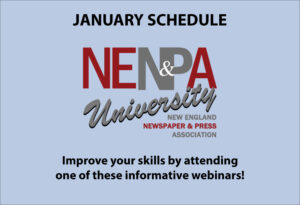 NENPA University provides a wide assortment of professional development opportunities throughout the year – we produce webinars in-house, and we partner with other organizations to address critical issues relevant to the news industry. Topics include reporting, editing, free speech, photojournalism, advertising, circulation, promotion, production, revenue, and more!
We are starting 2023 with a release of video replays from our recent New England Newspaper Conference, along with webinars produced by our partner, Online Media Campus.
The Conference replays will be available to play inside the NENPA Member Community at the day and time on the event listing, and they do not require advance registration. Save the "Event link" in your calendar to access the presentations on or after the release dates.
If you have suggestions for topics, would like to be contacted about future workshops, or need any assistance accessing the NENPA Member Community or Online Media Campus, please contact Tara Cleary at t.cleary@nenpa.com.
Thursday, Jan. 5 @ 3:00 pm – 4:00 pm EST
NENPA U: New Models for Sustainable Local Newspapers
This presentation was recorded during the New England Newspaper Conference on December 8, 2022. Jim Friedlich, CEO of The Lenfest Institute for Journalism, the non-profit owner of The Philadelphia Inquirer and Spotlight PA, will discuss lessons and methods for sustaining local news through partnership, donor support, and digital transformation. This replay is hosted inside the NENPA Member Community and doesn't require advance registration.
Event link
Thursday, Jan. 12 @ 3:00 pm – 4:00 pm EST
NENPA U: Revenue & Readership – Rescuing and Reviving Rural Journalism
The need to create a new business model for the journalism industry became even more apparent during the early months of the COVID-19 pandemic. Journalism researchers, Teri Finneman, Associate Professor/Founder, University of Kansas/The Eudora Times, and Joey Young, Owner / Publisher, Kansas Publishing Ventures have spent the past year collecting data from rural publishers and rural residents to create a proposed new model that is now in the experimental phase in Kansas. Attend and learn about their findings to get ideas of what could work for you. This replay is hosted inside the NENPA Member Community and doesn't require advance registration.
Event link
Thursday, Jan. 19 @ 2:00 pm – 3:00 pm EST
NENPA U: Classifieds 2023 – Top Five Revenue Opportunities
Today's classifieds struggle at almost every newspaper. And yet, there are papers from Florida to Montana with hundreds of ads in all categories. Let Janet DeGeorge share their TOP FIVE REVENUE secrets with you for a significant revenue boost in 2023. DeGeorge has been president of Classified Executive Training & Consulting since 2001. She specializes in classified sales training for sales reps and new managers, outbound sales training, and redesigning print and online products and rate packages to uncover new revenue sources. This is an Online Media Campus webinar. The event is $35 per attendee, but NENPA members attend for free. Members, contact t.cleary@nenpa.com for the registration code.
Register
Thursday, Jan. 19 @ 3:00 pm – 4:00 pm EST
NENPA U: How the American Rescue Plan Can Help Rebuild Local News
Join Steven Waldman, founder, and president of Rebuild Local News, an organization that advocates for smart public policies for the future of the local press, and Rebuild Local News manager for policy development, Anna Brugmann. They discuss public programs, such as those that leverage American Rescue Plan Act funds and municipal advertising budgets, that support local news outlets with funding that is already in local budgets. This replay is hosted inside the NENPA Member Community and doesn't require advance registration.
Event link
Thursday, Jan. 26 @ 3:00 pm – 4:00 pm EST
NENPA U: Money Through Missions – Revenue Partners With a Purpose
In your community, some people want to address social issues such as health, literacy, safety, and more. Vicki Whiting has more than 20 years of experience helping hundreds of newspapers develop partnerships that produce significant revenue while also serving the community by expanding a newspaper's revenue models to include transformational models in addition to transactional ones. This replay is hosted inside the NENPA Member Community and doesn't require advance registration.
Event link