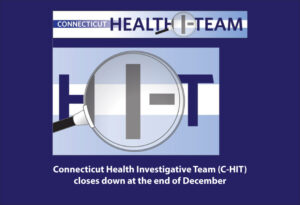 The non-profit Connecticut Health Investigative Team (C-HIT) closed down at the end of December, concluding impactful years of award-winning journalism (including NENPA Publick Occurrences Awards in 2021 and 2022) that was regularly featured on the front pages (print and digital) of a multitude of publications across the state.  From day one, the online publication and news service was "dedicated to producing original, responsible, in-depth journalism on issues of health and safety, in Connecticut and the surrounding region."
Co-founder Lynne DeLucia announced last month plans to retire and cease publication of C-HIT, which broke new ground when the endeavor was launched, and quickly gained acclaim for its investigative stories and impact in bringing together journalism veterans and those aspiring to the field – as well as reporting noteworthy stories that advanced the public interest.
DeLucia has been a working journalist in Connecticut for nearly a half-century, including time at the New Haven Register (including reporting from the State Capitol) and as assistant managing editor of Hartford Courant.