Once again this year the New England Newspaper & Press Association will identify our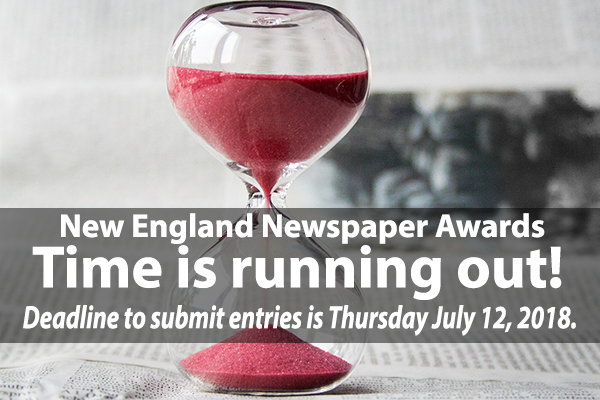 region's very best daily, weekly and specialty newspapers, and recognize them with the prestigious "New England Newspaper of the Year" award.
This is a one-of-a-kind competition – it is the only distinction in our industry that is judged by the audience members. New England newspaper readers will be appointed to evaluate the entries from a news consumer point of view and decide which deserve the honor of being named "Newspaper of the Year". Plus, all newspapers in the contest will receive in-depth feedback from the judges about the strengths and weaknesses of their publication (on both print and digital platforms) and how their paper stacks up compared to similar-size papers in our region. Each editor that enters will receive a summary scorecard with the readers' ratings across a range of attributes that are typically associated with quality newspapers, along with written verbatim comments.
Mail Entries To: NENPA , 1 Arrow Drive, Suite 6, Woburn, MA 01801
Entries are also being accepted for five other prestigious awards:
Publick Occurrences Awards
This award recognizes individual or team stories, series, spot news coverage, columns or photojournalism that ran in print and/or online. Editors should view this entry as their "very best work of the year."
Allan B. Rogers Editorial Award
This award recognizes the best editorial on a local subject that ran in New England in the past year.
New England First Amendment Award
This award will recognize a New England newspaper for its exceptional work inupholding the First Amendment and/or educating the public about it.
Bob Wallack Community Journalism Award
This award celebrates the accomplishments of someone who, over a sustained period of time, has faithfully served the communityfor which they are responsible and has played an active, constructive role in contributing to its quality of life.
AP Sevellon Brown New England Journalist of the Year
This award is bestowed by the New England Society of News Editors, and it recognizes an individual for producing journalism of distinction in New England this past year.
The awards will be presented at the New England Newspaper Conference on Thursday October 11, 2018 in Natick, MA. This conference is one of the most prestigious functions in the newspaper industry. This event includes expert speakers, the New England Newspaper Awards luncheon and the New England Academy of Journalists' Yankee Quill Awards Dinner. If you are interested in sponsoring or being an exhibitor at the event email Christine at c.panek@nenpa.com. Registration and more information to come!