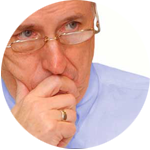 Ed Henninger
Design
ED HENNINGER is an independent newspaper consultant and the director of Henninger Consulting.
Website: www.henningerconsulting.com
Phone: (803) 327-3322
WANT A FREE evaluation of your newspaper's design?
Just contact Ed: edh@henningerconsulting.com | (803) 327-3322
IF THIS COLUMN has been helpful, you might be interested in Ed's books: "Henninger on Design" and "101 Henninger Helpful Hints." With the help of Ed's books, you'll immediately have a better idea how to design for your readers. Find out more about "Henninger on Design" and "101 Henninger Helpful Hints" by visiting Ed's website: www.henningerconsulting.com
In one of my recent weekly Henninger Helpful Hints, I mentioned that it was important to have a consistent position for the jumps from page 1.
"Decide where your jumps will go," I said, "and then put them there in every issue. That's right, every issue. You can do this if you plan your paper. After all, you always know where your obits page is gonna be, right? And the opinion page? And the sports front? And Classifieds?"
One reader replied: "No, Ed, I do not know which pages my obits, sports, editorial, or classified will be on each week. How can I, when each week I receive my thumbnail and I am instructed not to put obits on certain pages because certain advertisers don't want to be near them?
"If I am lucky enough to have color ads in front, my editorial page, usually page 4, gets bumped to page 6 because of press limitations. I only jump page 1 stories and they all jump together, but not to the same page every week.
"When your paper fluctuates between 10 and 16 pages — down from 26 to 32 a few years ago — it's impossible to dedicate certain pages each week. Same for sports — it gets whatever two pages are available. Classifieds depend on overall advertising as well. Welcome to my small-weekly world."
I feel for her. Shoehorning her news content into a much tighter paper is difficult enough, but not having a plan makes the job a nightmare.
Many newspapers pay little attention to consistent organization from issue to issue. For example, content that readers find important—such as obituaries and comics—will float throughout the paper. In one issue, the obits will be on page 6. In the next, they could be on page 8. And in still another issue, obits could be on page 5.
Readers have a right to expect consistency from you, and you get that consistency by creating a sequencing plan.
Sequencing is the logical, orderly and consistent placement of elements within your newspaper.
A good sequencing plan strives to give readers key content in the same place with each issue.
There are three approaches to sequencing:
Page number. The Opinion page is page 4. Always has been, always will be. If you're reading this week's editorial, you're on page 4.
Position: Sports front is always the first page of the B section.
Relative position: Legals are always placed just before classifieds. Or comics are always on the page following classifieds.
To draw up a sequencing plan, you need key people be involved:
The publisher, who will tell us whether we can increase our page count, or whether she's willing to accept moving the Opinion page if it helps to better organize the paper.
The advertising director, who will help by looking for win-win situations where he can get better advertising space by making some trade-offs with editorial for page position.
The editor, who works with the ad director and the publisher to achieve those trade-offs while looking out for the interests of the reader.
The designer, who has to make the plan work with every issue, and may know some reasons why a particular move may not work.
The press chief, who will be able to help you by identifying color positions and working out how the paper breaks down on the press.
The ad layout person. This is the person who actually dummies the ads into the paper—and usually knows better than anyone else why a particular florist is upset when her ad is not on the obits page.
Yes, I understand that at some newspapers, one person may perform two or three of these tasks. The objective is to get editorial, advertising and production all helping each other to build a better paper.
Working together, these key people take a list of "must" content and form a plan that puts that content into the same sequence issue after issue after issue. Yes there will be exceptions, but you can't deviate from the plan if you don't have a plan.
A sound sequencing plan will help you to create a newspaper that is better organized, more predictable and easier for your advertisers and your readers to use.
And who doesn't want that?