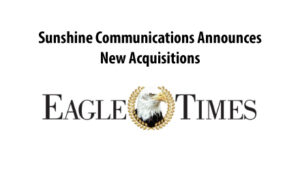 CLAREMONT, NH — Newly formed Sunshine Communications, a division of the Sunshine Initiative Public Benefit Corporation, owned and operated by Jay Lucas announced the acquisition of the Eagle Times from Sample News Group, effective immediately.
"I am very excited to return ownership of the Eagle Times back to New Hampshire," said Lucas. "As someone who grew up getting our news from the Eagle as well as remembering how excited it was when my photo from my football days or my name being listed in the paper from the honor roll, it is important we keep the spirit of this publication local, relevant, and worthwhile for the communities it serves."
In addition to the acquisition of the Eagle Times, Sunshine Communications has also taken ownership of the Newport-Argus Champion and the Newport Times.