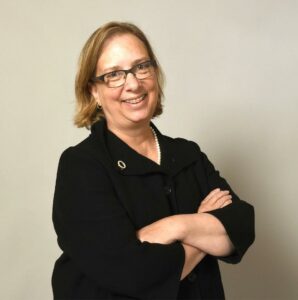 From the first time she met him, Marlin Fitzwater has said that he wanted the Center to be more than a name on a building, and that was her cue.

In the summer of 2002, only a couple of months after its dedication, Dr. Kristen Nevious joined The Marlin Fitzwater Center for Communication as a staff member and was named director in 2004.   
Alongside her three degrees in journalism, her professional experience has been in student media, public relations for non-profit organizations, and she has taught media law, journalism, public relations, advertising, photography, and more at Southern Illinois University at Carbondale, Southern Missouri State University, the University of Southern Mississippi, and the University of South Dakota, where she earned tenure.  
Her first task as director was to frame its mission: to engage intellects, challenge perspectives, teach skills and help people find their voices in the public discourse that is essential to the health of our democracy. Since becoming Director, she has established numerous programs and organizations including the Pierce Media Group,  The Fry Lectures, Franklin Pierce University Polling, The Presidency and the Press, PoliticsFitzU, and she produced a Forum on Civility in Presidential Election Discourse with the Newseum in Washington, D.C. Dr. Nevious is also a producing partner for IndieLens Pop-Up. 
Dr. Nevious is a founding member of the Granite State News Collaborative. Through the GSNC, she has created opportunities for FP interns to work remotely on top video and podcast internships with New Hampshire Public Broadcasting and Citizens Count.   
She serves on several professional boards, including as chair of New Hampshire Public Broadcasting's Community Advisory Board, and as a member of the New England Newspaper and Press Association's Board of Directors, and the New Hampshire Press Association.    
In 2018, she was named the Journalism Educator of the Year by NENPA.