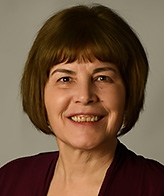 Karen Florin takes great pleasure in serving as a cheerleader for her co-workers and engaging with members of the community while working on the company's digital strategy and long-term sustainability. She writes a weekly news column, organizes events, hosts a podcast called "The Storyline," and raises funds for special projects.
Florin was a reporter for 25 years, focusing most recently on the court system. She was a longtime member, and co-chair, of Connecticut's Judicial-Media Committee. In 2018, she was named Journalist of the Year by the New England Newspaper Association. She cherishes the Liberty Bell award bestowed on her by The New London County Bar Association in 2019.
She lives in Old Lyme with her husband Robert and their pets.