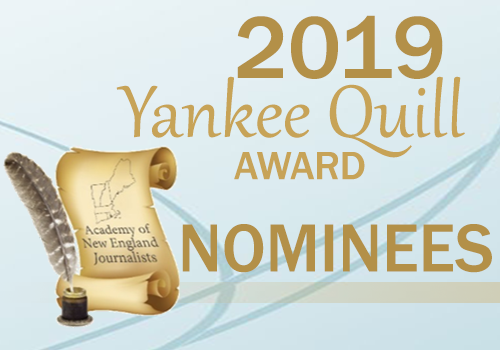 Five New England journalists will receive the Yankee Quill award this fall for their contributions to the betterment of journalism in the six-state region.
The 2019 honorees are:
Ross Connelly, longtime New England journalist who retired as editor and co-publisher of the Hardwick Gazette in Vermont.
Callie Crossley, WGBH radio and TV in Boston; host of Basic Black, panelist on Beat the Press, producer, filmmaker and role model for women and people of color.
Dan Kennedy, media critic and journalism professor at Northeastern University.
Angelo Lynn, owner of the Addison Press and publisher-editor of Addison Independent in Vermont.
John C. Peterson, of Connecticut, who has worked 50 years as newspaper consultant, group president, publisher and editor.
The Yankee Quill is presented annually by the Academy of New England Journalists through the auspices of the New England Society of News Editors. It is considered the highest individual honor awarded by fellow journalists in the region. Selection for the award is not based on any single achievement but rather on the broad influence for good over the course of a career.
The Yankee Quill awards will be presented as part of the annual conferences of the New England Society of News Editors and the New England Newspaper and Press Association on the evening of Thursday, Oct. 10, in Worcester.
> Read More About The 2019 Nominees
> Reserve Your Seats For the 2019 Yankee Quill Awards Dinner