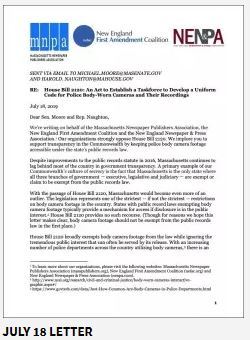 The New England Newspaper & Press Association opposes a bill in Massachusetts that would make police-worn body camera footage exempt from the state's public records law.
In addition to establishing a taskforce to explore the use of body cameras and law enforcement policies, House Bill 2120 would create a new exemption to the state's public records law for footage captured by those cameras.
"Despite improvements to the public records statute in 2016, Massachusetts continues to lag behind most of the country in government transparency," wrote the New England Newspaper & Press Association, the Massachusetts Newspaper Publishers Association and NEFAC in a July 18 joint letter to state legislators.
"With the passage of House Bill 2120, Massachusetts would become even more of an outlier," they wrote.
The release of police body camera footage can often serve the public interest, the groups explained. By creating a new public records exemption, the legislation ignores those benefits entirely.
According to the letter:
"While our organizations are sympathetic to the privacy concerns that result from body camera use, we are convinced that House Bill 2120 is an, at best, misguided attempt to protect those interests. The Public Records Law already provides tools law enforcement can use to withhold sensitive information. . . . In addition, House Bill 2120 prevents the public from receiving any benefits from the release of footage because of its wholesale approach to the protection of privacy. The bill simply eschews the much-needed balance the current statute allows."
The groups suggested that the taskforce be established without a new exemption created. They also requested that the taskforce include someone to represent the interests of journalists.