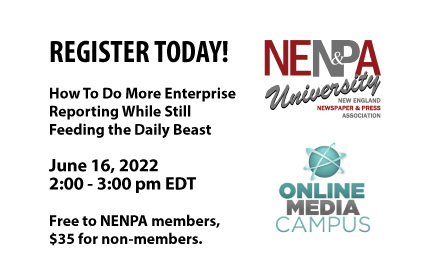 When:
June 16, 2022 @ 2:00 pm – 3:00 pm
2022-06-16T14:00:00-04:00
2022-06-16T15:00:00-04:00
Cost:
$35, free to NENPA members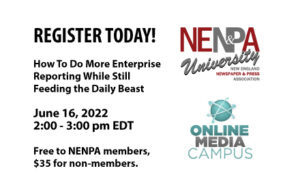 This is an Online Media Campus NENPA U webinar. Members, please contact Tara Cleary at t.cleary@nenpa.com for the free registration code.
In this webinar:
Think you don't have enough time for watchdog journalism? Overwhelmed with keeping the daily machine running? Get practical advice for creating a newsroom culture that values public service and accountability reporting, no matter the staff size. The first step is deciding what not to do or to do differently. Some newsrooms are growing audiences while producing less content. The key is using data to determine which types of content are not contributing to audience engagement.
About the presenter:
Chris Coates is the executive editor of the Times-Dispatch in Richmond, Virginia.
A Trenton, Michigan, native, he is a graduate of Columbia College Chicago and has been a business reporter in Los Angeles, managing editor of Illinois publications for the Suburban Journals of Greater St. Louis, editor of the Sioux City Journal, and watchdog editor for The News Journal in Wilmington, Delaware. He also was Central Illinois editor for Lee Enterprises before becoming editor in Richmond in March.
Chris is the former president of the Illinois Associated Press Media Editors board and was the Illinois Press Association's Editor of the Year for 2019.