Jan
24
Mon
NPC Journalism Institute – Police Accountability: How to get hidden records
Jan 24 @ 11:30 am – 12:30 pm
Register now to join the National Press Club Journalism Institute for a free hour-long program at 11:30 a.m. ET on Monday, Jan. 24, to learn how to break into this hidden system.
Since the murder of George Floyd by police, there has been renewed attention to police misconduct and growing momentum for holding law enforcement accountable. But journalists struggle to get access to public records that could be used to reveal police conduct.
The hour will feature tips from WAMU reporter Martin Austermuhle, Maryland Office of the Public Defender Deborah Katz Levi, Maryland State Senator William C. Smith Jr., and veteran reporter Miranda S. Spivack.
Program participants will learn:
How to find sources for records disclosure laws in your state, including understanding how to ensure that the law enforcement agencies you cover are complying with disclosure laws and regulations
What to do if law enforcement agencies refuse to disclose anything, citing pending investigations
How to find records involving police misconduct
Story ideas for covering law enforcement
How to get help when you are stonewalled
Journalists across the country will gain an understanding of the national trends and issues, how to localize stories, and what they can do to unearth these records across the country.
The National Press Club Journalism Institute serves thousands of people daily with our newsletter, online programming, writing group, and other support. The Institute depends on grants, foundation funds, and contributions from individuals like you. Your donation today allows the Institute to offer the majority of its programming at no cost.
Jan
25
Tue
NEFAC 30 Minute Skills: Interviewing Traumatized Sources
Jan 25 @ 12:00 pm – 12:30 pm
According to the Dart Center for Journalism and Trauma, there is a concept that some psychologists and advocates for victims call "the second wound." It refers to the collateral damage that hasty and thoughtless journalism can do to victims of trauma and other vulnerable sources. Journalists of all backgrounds and beats must know how to cover sensitive stories without causing this additional harm. By attending our class, you will learn:
• How to build trust with victims and other vulnerable sources.
• How to motivate sources to share their story in empowering ways.
• Additional resources to use when covering stories involving victims of trauma.
The New England First Amendment Coalition launched last year a monthly educational series featuring short, practical lessons on journalism and the First Amendment.
The goal of the program — called "30 Minute Skills" — is to provide reporters and other citizens knowledge they can use immediately in newsgathering, data collection, storytelling and other areas of journalism and First Amendment law.
The lessons will be provided in a 30-minute format to accommodate the demanding schedules faced by many working in New England newsrooms. The program is free and open to the public. Registration for each lesson is required.
Jan
27
Thu
Our-Hometown: SEO for Newspapers
Jan 27 @ 12:00 pm – 1:00 pm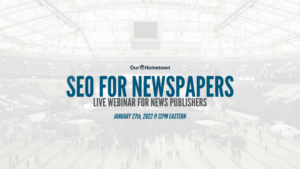 Join NENPA partner Our Hometown for the upcoming webinar on "SEO for Newspapers". This is the first in a series of educational webinars on digital marketing for local newspapers. The event is $25 per attendee, but NENPA members attend FREE!
Search Engine Optimization (SEO), put simply, refers to the practice of improving your website's performance in search results across major search engines like Google, Bing, or Yahoo. Generally speaking, a website that performs better in search results is more likely to see increased traffic from these search engines.

SEO should be considered an integral part of any newspaper's digital marketing strategy.
During this webinar, you can expect to learn more about SEO in general, including what kind of things affect your website's performance in search results. Our industry experts will highlight several techniques — some basic, others more advanced — that publishers can use to help improve their SEO.
This live webinar event is being put on in conjunction with our partners at the National Newspaper Association, the New England News Press Association, the Ohio News Media Association, the Virginia Press Association, the Kentucky Press Association, the Illinois Newspaper Association and the Pennsylvania Press Association.
As usual, Our-Hometown Customers are invited to attend for free. Just fill out the short form below and be sure to select "Our-Hometown Customer" as your 'Press Association' for a free pass.
Email ops@our-hometown.com if you have any questions!