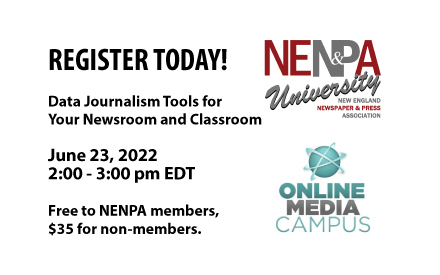 When:
June 23, 2022 @ 2:00 pm – 3:00 pm
2022-06-23T14:00:00-04:00
2022-06-23T15:00:00-04:00
Cost:
$35, free to NENPA members
This is an Online Media Campus NENPA U webinar. Members, please contact Tara Cleary at t.cleary@nenpa.com for the free registration code.
In this webinar:
During this session, SPJ Digital Trainer Mike Reilley will show you how to scrape data from web pages and PDFs and into a spreadsheet format. You also will learn how to visualize the data using the free Flourish.studio tool. Participants will get a handout with links to the tools, exercises, examples and data to practice with.
Prior to the session, participants should set up a free account at https://flourish.studio/
They also should download free Tabula software here: https://tabula.technology/
About the presenter: 
Mike Reilley has been a lecturer in data and digital journalism at UIC for the past six years and is an SPJ trainer in the Google News Initiative training program. He also owns Penny Press Digital, LLC, a digital consulting company.
Mike has trained more than 10,000 journalists, students, and teachers in digital tools since 2016, speaking at conferences, journalism schools and in newsrooms in 40 states. He has done nearly 300 training's in the Google program and dozens more for other clients such as Gannett.
Reilley is a former reporter and copy editor at the Los Angeles Times and was one of the founding editors of ChicagoTribune.com. He is a former digital news editor at WashingtonPost.com and helped run the 2000 Summer Olympics copy desk for AOL. He also founded the journalism research site, The Journalist's Toolbox, which he sold to the Society of Professional Journalists in 2007 and continues to update for SPJ. He also blogged about the Chicago Bears for two seasons on the NFL Blog Blitz site.