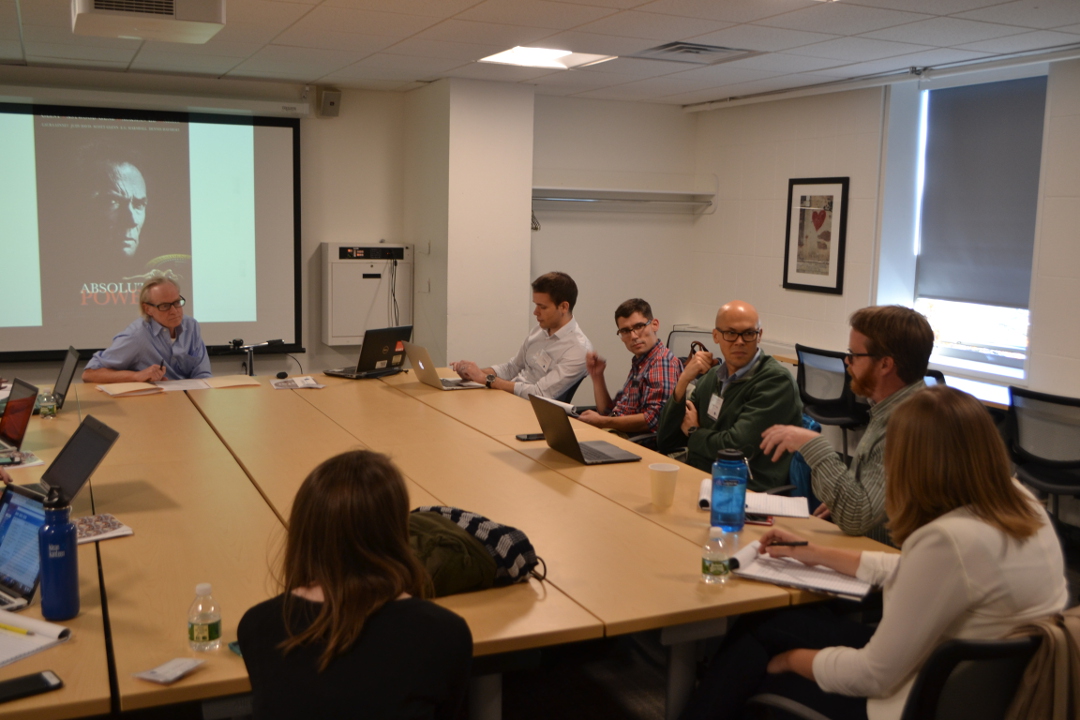 Bulletin photos by Daniel McLoone
'Narrative tension is something that informs everything. It's the one thing that completely distinguishes narrative writing from other conventional article writing. Use it to create a story structure and to keep readers glued to what they're reading.'
— Steven Wilmsen,
Narrative editor,
Boston Globe
Creating narrative tension
around a central question drives good stories
By Alison Berstein
Bulletin Correspondent
Steven Wilmsen once had a predicament.
"I was a good writer. I knew how to describe, boil down, elegantly arrange language, but there was one thing I didn't understand. I wasn't really writing narrative stories," he said.
Wilmsen, narrative editor at The Boston Globe, discovered the secret: narrative tension.
He shared that technique in a narrative workshop he gave at the New England First Amendment Institute, held at Northeastern University in Boston.
"Narrative tension is something that informs everything," Wilmsen said. "It's the one thing that completely distinguishes narrative writing from other conventional article writing. Use it to create a story structure and to keep readers glued to what they're reading."
Wilmsen said narrative tension lies in an unresolved question at the heart of a story.
"What is the central question?" he said. "Where does the story begin, where does the story end? The tension is which question is driving the storyline."
The art of asking questions can go hand in hand with the practice of answering questions, Wilmsen said.
"As journalists, we're trained from day one not to pose the question in the first place," he said. "If there's ever a question, we answer it. A conventional news story begins with the answer.
"Narrative writers do something completely different: they pose a question and wait for it to be answered," he said. "That's narrative tension, and we use it in a lot of different ways."
Homing in on the central question helps guide the entire story, Wilmsen said.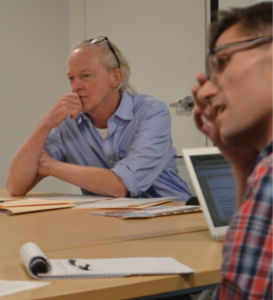 "There's the unresolved question. The end is the resolution, it's the answer," he said. "Will the firefighter make it out of the burning building; will the legislator get all the votes she needs to (get) her law passed?"
Having something at stake is another key component of building tension in a story, Wilmsen said.
"If there's no consequence to the question, then we're not compelled to read on, there's no reason to be tense," he said. "As long as there is legitimate conflict, then you have enough tension to drive us through the story.
"We had to give the reader some sense of satisfaction," he said.
The middle of a story enhances the stakes introduced in the beginning of a story and resolved in the ending, Wilmsen said.
"Middles of stories are about effectively managing that over and over again," he said. "Things that characters have to figure out. As soon as one is done, another one picks up.
"It's very difficult to write a story with just plain mounting tension," he continued. "The middle is made of moments of triumph, obstacles that must be figured out."
An audience member asked about including statistics and other data in a narrative story.
Wilmsen said journalists who have written a strong narrative can easily use figures in their story.
"If you give people a compelling enough story, they're going to absorb all of that anyway," he said. "The power of the story is in the telling.
"You're going to get the message across much more effectively by giving the emotional experience," he said. "Bring out the allure."
Wilmsen sees potential in the art of narrative writing.
"We think of narrative writing in lots of different ways. One of the things is felt experience," he said. "What does it feel like, taste like? We're doing something explanatory that is both readable that people tend to be drawn to, and helps them imagine what it was like to be in that place.
"What we've been talking about here is a big subject," he said. "People spend their lives studying this and working this out."
Ten of the 25 journalists invited to take part in the Institute attended Wilmsen's "Writing Workshop and Narrative Flow" Tuesday, Oct. 31, the final day of the three-day Institute. The Institute is presented by the New England First Amendment Coalition.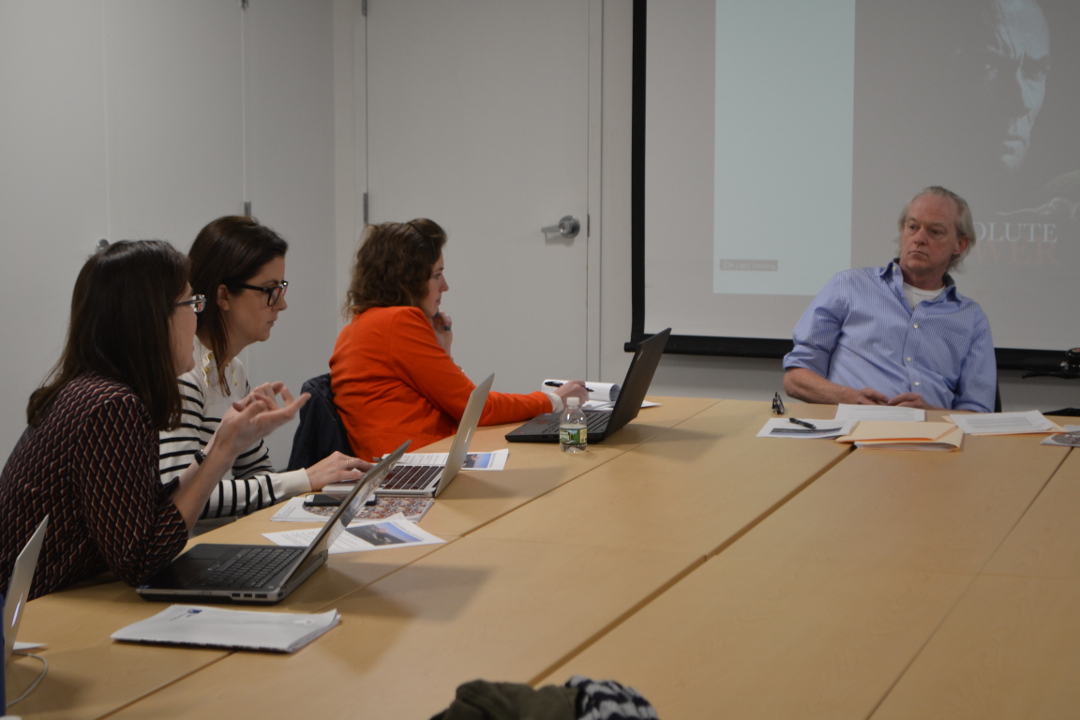 An audience member chips in to the discussion at the session on narrative writing.
'We think of narrative writing in lots of different ways. One of the things is felt experience. What does it feel like, taste like? We're doing something explanatory that is both readable that people tend to be drawn to, and helps them imagine what it was like to be in that place.'
— Steven Wilmsen