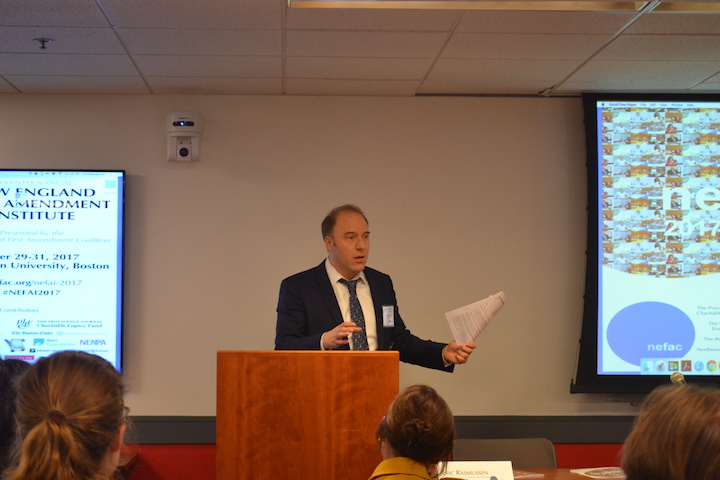 Bulletin photos by Nadine El-Bawab
 'This is not personal; we have questions to ask. I'm not trying to be a jerk, but I'm not trying to be their friend.'
— Eric Rasmussen,
Investigative reporter,
Boston 25 News
 There are no dumb questions,
and other interviewing advice

By Jesse Goodman
Bulletin Correspondent
Among the tips Eric Rasmussen delivered to journalists at the recent New England First Amendment Institute was this answer to a query about what interview questions to avoid:
"The only dumb question is the one you don't ask. If it doesn't end with a question mark, you probably won't get what you want."
Rasmussen, an award-winning investigative reporter with Boston 25 News, had much advice to share on his topic of "The Confrontational Interview and Transition to Audio or Video" at the Institute Oct. 31 at Northeastern University.
"Interviews take on all shapes and sizes," Rasmussen said. "Every interview, almost without exception, doesn't go (according) to expectation."
Rasmussen, a news anchor in Orlando, Fla., Chico, Calif., and Champaign, Ill, before returning to Boston, the home of his alma mater, Boston University, recommended identifying what kind of interview is planned.
He mentioned three kinds: Interviews for accountability (Why was this person let out of jail with this kind of record?); emotional (How does it feel to get out of jail?); or informational (When were you released from jail?).
Rasmussen showed examples of his work. They included an unscheduled interview with a man using an alias to sell food stamps on Facebook as a part of a report on the abuse of food stamps in Massachusetts. Rasmussen figured out who the man was through his friends on Facebook, and tracked him down before confronting him.
That doesn't have to be the case for all interviews, Rasmussen said.
Rasmussen showed another clip of him talking to Boston Mayor Marty Walsh about the building of a fence to keep drug users away from a particular area, only to have them use another end of the same street. Walsh's team didn't want him to meet with Rasmussen at first. But after Rasmussen interviewed Walsh's chief opponent in the mayoral race, Tito Jackson, Walsh was ready to sit down with Rasmussen and talk about the fence.
"This is not personal; we have questions to ask," Rasmussen said. "I'm not trying to be a jerk, but I'm not trying to be their friend."
Rasmussen's other tips included structuring a story with characters, context, conflict, and resolution.
He recommended reviewing quotes from the person you're interviewing, to come up with additional questions. Rasmussen suggested trying to make most questions open-ended, to encourage the interview subject to respond more expansively.
Rasmussen urged never allowing someone being interviewed to get away with saying something that isn't true.
"You can really miss out if you don't listen to what they say," Rasmussen said.
Rasmussen suggested getting contact information to follow up with the person interviewed, even if it's just to let the person know that the piece has been published or aired.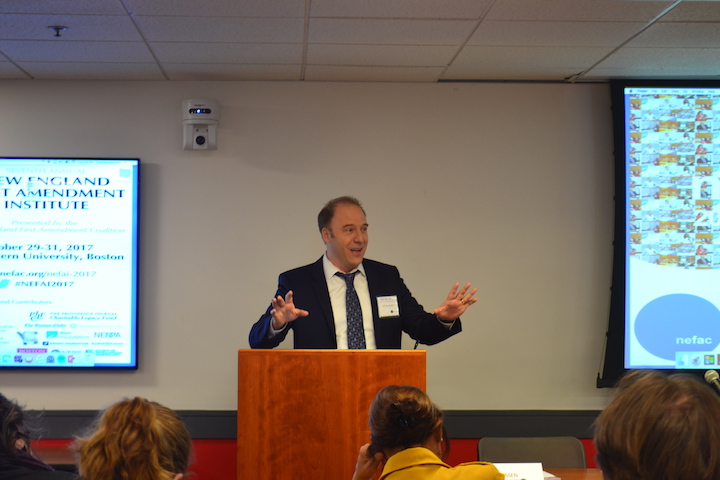 Presenter Eric Rasmussen provides interviewing tips to his audience at the New England First Amendment Institute.
 'You can really miss out if you don't listen to what they say.'
 — Eric Rasmussen