Watchdog reporters:
How to dig deep for in-depth stories
By Nadine El-Bawab
Bulletin Correspondent
"Get closer to the big story using a series of small stories; by doing smaller stories over time, you get a sort of expertise."
Pulitzer Prize winner Eric Eyre, statehouse reporter for the Charleston (W.Va.) Gazette-Mail, told the audience at the New England First Amendment Institute's panel discussion on "Tales from the Trenches" that he had learned that reporting technique through the years.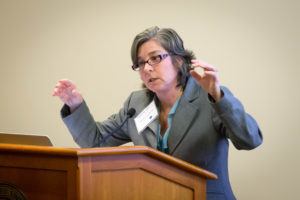 Eyre also talked about the importance of having a "what-I-need list" and a "what-I-have list" throughout the reporting process. That eventually "becomes a rough outline of your story … (and) makes it easier to keep track of things."
He recommended setting aside "quiet time" because "constant distraction gets in the way of a good project," and suggested asking yourself "what is the story in six words or less?" throughout the process to help focus on what your story is about.
Eyre's talk involved the reporting that went into his 2017 Pulitzer Prize-winning work <<  http://www.pulitzer.org/winners/eric-eyre >> about the opioid crisis in West Virginia and how he was able to get hold of the documents that helped him tell the story.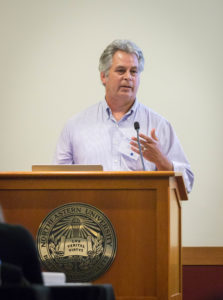 Eyre created files to help him organize the data he had and tell him where the most pills per person were being distributed versus where the highest overdose rates were. He was then able to discover that the top four places were all in West Virginia.
Eyre discussed the many legal hurdles the pro-bono lawyers who worked for the Gazette-Mail had to overcome to get certain information from the pharmaceutical companies producing the drugs. That included filing a lawsuit and a motion to intervene to unseal documents, which the lawyers for the pharmaceutical companies fought.
Eyre said he was able to find human sources through an addiction counselor and that he eventually added her, as a recovering addict, to the story "to give a sense of hope."
Eyre was joined on the panel Sunday, Oct. 29, by award winning investigative journalists Kristen Lombardi, a reporter with the Center for Public Integrity in Washington, D.C., and Mike Beaudet, a multimedia journalist with WCVB-Boston's 5 Investigates team and a journalism professor at Northeastern University. They took the audience through the process of reporting that occurred behind the scenes of some of their stories.
Lombardi shared her experience investigating the Federal Energy Regulatory Commission (FERC).
After receiving multiple "compelling anecdotes" about the commission, she began to look for ways to "quantify" what people were telling her.
"Where is the data, the public documents? What can I quantify? How can I take this from a daily story to an investigative piece?" she said. "Always start with a fundamental question: Is FERC a rogue regulator greenlining pipelines at the expense of people's money?"
Lombardi also filed numerous requests under the federal Freedom of Information Act for "ethics documents" and was also able to find that the commission published data dating to 1997 and that the commission was "the biggest hurdle" she faced during her reporting.
She said that if you really take the time to dig into data "you can have a real impact in your local communities."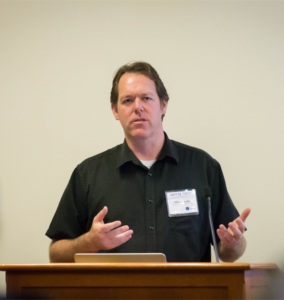 Beaudet, who teaches investigative journalism, said he continually files Freedom of Information Act requests. He discussed the difficulty he and his students had in requesting footage of the Boston Police Department's body camera videos pilot program, which is considered public record in Massachusetts.
At first, they were billed $157,450 to be able to see footage. After much difficulty, they were able to obtain three videos. Beaudet said he "felt that they (the police) were handpicking them (the three videos)."
Beaudet said he thinks that "having a story about the ability to access the information is important as well."
Beaudet provided many tips on how important it is to continue to follow up on stories written in the past, which is something he does for WCVB. He talked about some of the ways the Boston Police Department and the district attorney's office went out of their way to try to keep hidden information about a police officer who was allowed to resign amid sexual misconduct allegations.
That case was one among many cases in which district attorneys use so-called Conley Letters to get other district attorneys to agree not to prosecute police officers because, they argued, "they (just) wanted to get them off the force" instead, Beaudet said.
Beaudet advised those in the audience to "put those public records requests in … because sooner or later you're going to hit something … that is going to make you stand out against your competitors."