COVID-19 Main Page | Webinars & Live Events | Member News | Resources | Essential Services
Last week the UK made a bold move to create a common voice to assure readers they are not alone in this 'new reality' we are all experiencing and assured readers they are in this with them. See the story
Press Associations across the country are participating in doing the same thing in the United States for our papers and communities.
NENPA is promoting the coordinated front page, #ThereWithYou campaign and sending a sample page out to all of our member papers that would like to participate in this initiative.
Click here to let us know if you'll be participating and we will collect PDF's of the front pages to display on our website.
The goal is to have all daily papers publish the front page on Monday, March 30 and weekly papers to publish the front page on the day of the week they publish.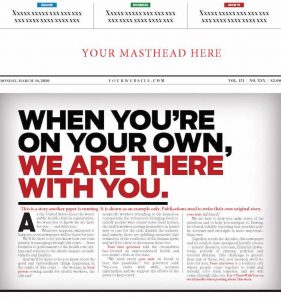 The sample page includes a story that newspapers can follow as a guide, each newspaper should create/write its own story about their community and how the newspaper is standing with them. Use #ThereWithYou when posting this story on social media.
Please contact Linda Conway at l.conway@nenpa.com or 781-281-7648 with any questions.