By Jacob Sauberman,
Bulletin Correspondent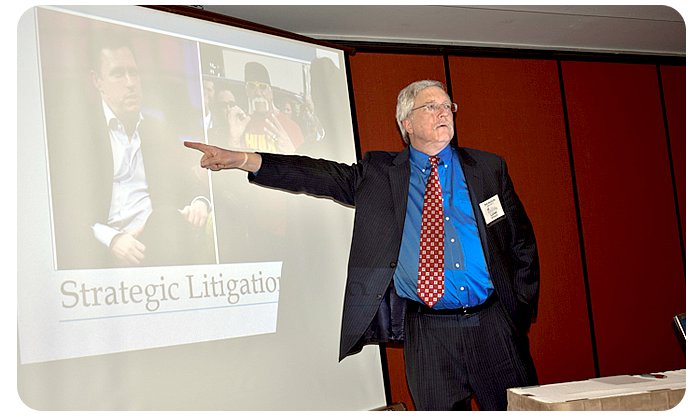 'There is a culture out there … to put media outlets out of business. The best defense is good reporting.'
—Robert Bertsche, Lawyer
Prince Lobel Tye LLP, Boston
With a new presidential administration intent on a war with the press, it remains as important as ever for journalists to remain conscientious and vigilant about what they publish, according to Robert Bertsche, a lawyer with Prince Lobel Tye LLP of Boston and a former journalist.
In a session Friday, Feb. 24, at the New England Newspaper and Press Association winter convention at the Boston Marriott Long Wharf hotel, Bertsche discussed the growing trend of defamation lawsuits and the fear it can impart on publications.
"There is a culture out there … to put media outlets out of business," Bertsche told about 20 people who attended his "Defamation is back in style" session. "The best defense is good reporting."
He opened his talk by defining libel: a false statement of fact published about an identifiable living person that tends to injure the reputation of that person, and published with a level of fault.
He illustrated the development of libel law via the "actual malice" standard, delving into a landmark U.S. Supreme Court case, New York Times Co. v. Sullivan. The New York Times ran an advertisement about a student protest in Alabama during the height of the civil rights movement. L.B. Sullivan, the chief of Alabama State Police, was not named in the advertisement but thought that the criticisms of the police were both inaccurate and indirectly aimed at him – and thus defamatory.
The Supreme Court ruled unanimously in favor of the Times, and in doing so, established a precedent that the First Amendment protects publications in libel suits when writing about public officials and public figures, as long as their news reports are not written with actual malice or reckless disregard for the truth.
Despite the ruling, the case revealed the dangers that a defamation lawsuit can bring, even to an industry giant.
"You're liable in the print media for everything that you publish," Bertsche warned. "If those (libel) awards (sought by the plaintiffs) were to get through the Supreme Court, the New York Times would have been put out of business."
Bertsche then transitioned to the future state of libel law under President Donald Trump. On Feb. 26, 2016, Trump said: "We're going to open up those libel laws. We're going to have people sue you like you've never got sued before."
Trump's history with lawsuits has been well-documented, Bertsche said.
"Trump has filed 4,000 lawsuits over the last 30 years …," he said.
Bertsche said the simple threat of a lawsuit is enough to scare many publications that might not have the resources to engage in a legal battle.
Many media companies are thinking "let's not go there, let's not bait this lion," Bertsche said.
The threat is always imminent, considering how easy it is to be sued in today's quick-trigger society, he said.
"Who can be sued? Everybody can be sued," Bertsche warned. "It's simple, and I can see myself making this mistake, easily."
He was referring to a case in which a reporter accidentally put the wrong street address of a man convicted of a break-in. The newspaper that published the story was sued for defamation and was ordered to pay the defendant $60,000 for damaging his reputation.
"I'm sorry, I can imagine being her," Bertsche said. "(We think) what are the odds? … These lawsuits happen when you don't expect them … The human imagination to defame someone is unlimited."
Bertsche outlined the classification categories for a claim of defamation: "loathsome" disease, criminal activity, financial embarrassment, and lack of chastity. Several so-called "defamation buzzwords" that are known to detonate lawsuits include blackmail, slumlord, scab, insolvent and sexual abuser.
That last one brought Bertsche back to Trump, who threatened to sue The New York Times over a story about two women who claimed to have been inappropriately touched by Trump. When sent a cease-and-desist letter by Trump's lawyers for apparent "libelous" and "reckless" content, the Times responded: "We did what the law allows: We published newsworthy information about a subject of deep public concern."
No suit was filed.
Bertsche drew a lesson from the Times' act of defiance, leaving his audience with an important reminder.
"We have to be careful, but we can't be afraid," he said. "Remember why you got into the business."