By Tori Sullivan,
Bulletin Correspondent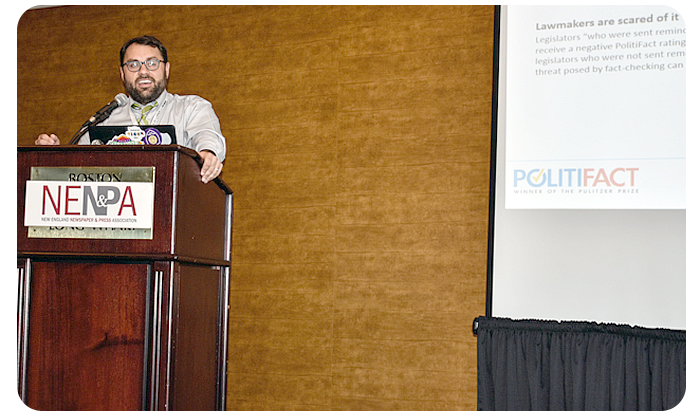 'Fact-checking is hard. It takes time, but, more critically, no one wants you to do it. It would be easier for politicians to say whatever they want and not feel they will be called out on it.'
—Aaron Sharockman, Executive director
PolitiFact
2016 saw an election season filled with outlandish claims made by candidates all around the country trying to sway voters during their campaigns. At a time when the demand for fact-checking is at an all-time high, Aaron Sharockman, executive director of PolitiFact, told fellow journalists that "fact-checking works."
Sharockman's 75-minute presentation "Getting it right — fact checking for journalists" took place Friday, Feb. 24, on the first day of the New England Newspaper and Press Association winter convention.
Fact-checking has been a hot topic recently in the news, and it was evident by the attendance at Sharockman's presentation in the Boston Marriott Long Wharf hotel. In a room prepared with 60 chairs set up, additional seating was needed.
PolitiFact rates the accuracy of comments made by politicians and other public figures based on its "Truth-O-Meter." The scale ranges from the standard true to false. Comments deemed to be the most untruthful are given the lowest rating on the scale, however: "Pants on Fire."
The site was launched in 2007. It won the Pulitzer Prize for national reporting for coverage of the 2008 presidential election between then-U.S. Sen. Barack Obama, an Illinois Democrat, and U.S. Sen. John McCain, an Arizona Republican.
The site gained more popularity during the latest election, between now-President Donald Trump and Democrat Hillary Clinton, for fact-checking comments made by both candidates during their campaigns. PolitiFact doesn't examine only comments made during presidential campaigns. It also checks comments made at any level of government, from county officials to congressmen to the president, and even city council members.
"Lawmakers are scared of fact-checking," but "audiences crave fact-checking," Sharockman said.
Thirty percent of what is fact-checked by PolitiFact is based on suggestions made by readers.
Sharockman said fact-checking keeps elected officials from being able to say whatever they feel like saying, especially at a local level.
"Every newspaper should have fact-checking, and they don't even need a scale," Sharockman said.
Sharockman shared with the audience experiences he had in the past when he was told that his attendance at Florida campaign events affected what was said by the candidates.
PolitiFact was created and is primarily financed by the Tampa Bay (Fla.) Times, plus grants from nonpartisan organizations such as the Democracy Fund, The Bill and Melinda Gates Foundation, the John S. and James L. Knight Foundation. The site recently began accepting reader donations.
Sharockman discussed the importance of PolitiFact's staff of 10 writers and editors being nonpartisan.
"Accurate nonpartisan reporting is as important now as it has ever been," he said.
The PolitiFact process begins after a writer researches a comment made by a public figure. A "Truth-O-Meter" story is then written and the comment is given a rating based on the scale. After the story is edited, three fellow staff members determine the accuracy of the "Truth-O-Meter" ruling. Sharockman estimates that on average PolitiFact fact-checks five comments a day.
"Fact-checking is hard. It takes time, but, more critically, no one wants you to do it. It would be easier for politicians to say whatever they want and not feel they will be called out on it," he said.