The deadline for Letters of Inquiry (LOIs) to be considered for American Journalism Project grants in 2021 is July 12th.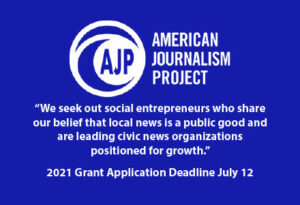 For the rest of this year, AJP is prioritizing providing growth capital to local nonprofit news organizations with a viable plan to dramatically increase the scale of their organizations in pursuit of meeting their communities' information needs. Organizations seeking grants must have the vision and ambition to grow significantly to become a primary source of local original reporting for their communities. (We recognize that what "primary source" means will vary depending on the local news ecosystem; it can be a collaborative vision, and it must ultimately be rooted in growing to meet the currently unmet critical information needs of the diverse communities in the geographies served.) We are currently prioritizing organizations serving or seeking to serve regions that are either an entire state or a large population area.
Please take a look at our site for more information about our grantmaking criteria, and for the link to our LOI form.