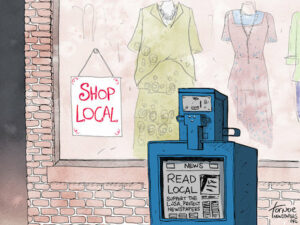 On Thursday, July 22, Senator Maria Cantwell (D-Wash.), Sen. Mark Kelly (D-Ariz.) and Sen. Ron Wyden (D-Ore.) introduced a companion bill in the U.S. Senate to H.R. 3940, the Local Journalism Sustainability Act (LJSA). This is a bipartisan bill that seeks to help local newspapers sustain financial viability through a series of three tax credits. New England Sen. Edward Markey [D-MA] also co-sponsored the LJSA on July 27.
NENPA stands with America's Newspapers and supports the passage of this legislation and calls on all members to ask their senators and Congressional representatives for their support.
America's Newspapers is making an editorial cartoon and editorial (or adapt the editorial and make it your own with information from your local market) available for reprint to their members and other newspapers.
Both the Senate and House versions of the Local Journalism Sustainability Act offer a series of three tax credits aimed at sustaining and providing a pathway to viability for the local journalism industry in the years to come.
The first credit works to incentivize annual subscriptions to local papers that primarily produce content related to local news and current events and can also be used for non-profit publications. The second credit is a five-year credit for local newspapers to employ and adequately compensate journalists. The last of the three credits is a five-year tax credit that incentivizes small businesses to advertise with local newspapers, as well as local radio and television stations.
View a one-page flyer about the Senate bill HERE
View the full text of S. 2434 HERE
View a one-page flyer about the House bill HERE
Learn more at https://newspapers.org/ljsa/