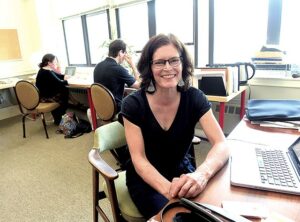 VTDigger.org founder Anne Galloway has stepped down as executive director of the state's largest online news outlet. She will remain with the nonprofit as an editor at large, Galloway announced Monday in a letter to readers, focusing on reporting projects.
"It's now time to let VTDigger thrive on its own," she wrote.
Senior editor Jim Welch has been named interim executive director while VTDigger conducts a national search for its next leader, members of the Vermont Journalism Trust board of trustees wrote in a parallel announcement. The trustees' letter said Galloway, 57, was departing her role "to pursue other creative ventures." She "leaves the hardworking Digger team in a position of strength to continue their vital work," their letter reads. The trust is VTDigger's parent organization.