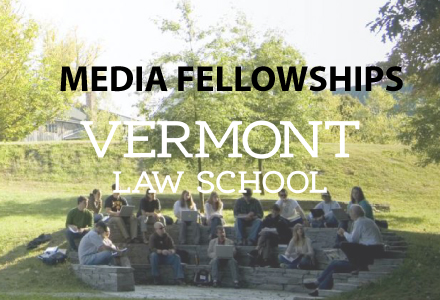 Vermont Law School (VLS), home to one of the top-ranked environmental law programs in the United States, seeks applications from qualified journalists for its 2022 Summer Media Fellowships.
As fellows, selected journalists will participate in the 2022 Summer Session, taught by internationally recognized scholars and leaders in environmental and animal law and policy in Randolph, Vermont.
The position includes a stipend, books, a tuition waiver, and an incredible stay in a vacation home situated near the campus. This is a great opportunity for journalists looking to enhance their journalism skills and deepen their understanding of environmental or animal law and policy.
Every summer since 2002, Vermont Law School has invited journalists to participate in the program. Last year's media fellows were Claire Brown of The Counter, Lisa Held of Civil Eats, Pamela King of E&E News, and freelance journalist Jessica Scott-Reid. 
"During their visit to Vermont Law School, Summer Media Fellows learn to 'think like lawyers' while they report like journalists," said Associate Dean Jennifer Rushlow, director of the Environmental Law Center. "They interact with experts in environmental law and animal law from around the world, forming connections that provide sources for stories and often evolve into years-long professional relationships." 
The program also provides an opportunity for members of the VLS community to interact with respected journalists reporting on the frontlines of animal and environmental protection issues. 
Fellows, audit one Summer Session course and have access to VLS's distinguished faculty and visiting policy leaders. Fellows receive a stipend, free housing and books, and a tuition waiver. In addition to attending class, they present on a topic of their choice as part of the Summer Session's "Hot Topics" series on current issues. 
VLS is seeking four fellows for 2022: two journalists focused on environmental law, and two focused on animal law. 
Environmental Law Media Fellowships are open to full-time journalists who cover issues related to the environment. Each fellow will choose to audit one two-week course from a wide selection of topics, from Global Energy Law and Policy to Environmental Crimes. A full schedule of 2022 Summer Session courses is available here or at vermontlaw.edu/summer-session. Environmental law media fellowships have been made possible since 2002 by a grant from the Johnson Family Foundation and major donors. Fellows are selected based on work history and samples, commitment to covering environmental law, and their potential for increasing understanding of environmental law and policy issues nationwide. 
Animal Law Media Fellowships are open to full-time journalists covering issues related to animal law and policy. Fellows will choose to audit a course from VLS's summer animal law courses, which include Animal Welfare Law, Animal Ethics and Conservation, and Undercover Investigations of Animal Operations (view the course catalog for more information). One applicant will be selected for a weekend-long fellowship, and one applicant will be selected for a two-week fellowship. Animal law media fellowships have been made possible since 2021 thanks to a grant from the ASPCA® (American Society for the Prevention of Cruelty to Animals®). Fellows are selected based on work history and samples, commitment to covering animal issues, and their potential for increasing understanding of animal law and policy issues nationwide. 
"Animal law is a rapidly growing field, with many facets and implications for our daily lives and relationships with the other beings we live alongside," noted professor Delci Winders, director of VLS's Animal Law and Policy Institute. "Animal Law Media Fellows get to learn about these issues from leading animal law scholars and practitioners, and to build relationships with these experts." 
"The ASPCA is thrilled to fund Animal Law Media Fellowships at Vermont Law School for the second year to increase much-needed dialogue around the lack of legal protections for farm animals and related policy issues nationwide," said Kara Shannon, director of farm animal welfare policy at the ASPCA. "The suffering that billions of cows, pigs, and chickens experience on factory farms intersects with a multitude of social justice issues in agriculture, and journalists are doing critical work to bring these intersections to light. These fellowships will encourage greater transparency and public awareness to promote a more humane, sustainable, and just food system." 
The application deadline for both fellowships is Friday, March 11, 2022.
Prospective fellows may submit applications via email to Molly Russell at mrussell@vermontlaw.edu. Please specify either "environmental law media fellowship" or "animal law media fellowship" in the subject line. In the body of the email, please list your top three summer course choices. Include a CV or LinkedIn profile, a link to your online portfolio or links to at least two recently published articles, and a short cover letter explaining your interests in, and qualifications for, the fellowship. For more information, visit vermontlaw.edu/media-fellowships.